Hello, and welcome to a new weekly feature that I'm going to be featuring on the blog.
I've been considering introducing this for a while, but after my interest in both New Music Monday and Friday Playlists died out, I thought I'd bide my time until I was certain I could commit.
WTF Did I Miss This Week?
is going to round up the biggest news in the music and YA worlds, as well as sharing interesting stories that I stumble upon in my explorations of the internet.
The YA world:
This week there's been a heck of a lot of exciting
new releases
: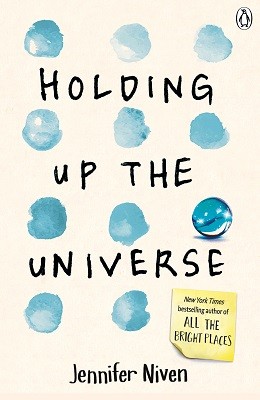 In the world of cover reveals, this week we finally got to see what the last book in Holly Smale's Geek Girl series will look like:
It's so nice to finally see Harriet's eyes!
The sequel to Katherine and Elizabeth Corr's 'The Witch's Kiss' also had its cover released:
A cover was also finally released for 'The Sandcastle Empire' by Kayla Olson, which - though it's not being published until the middle of next year - is already being adapted into a film!:
The most exciting cover news comes from David Owen:
Are you going to collect them all?
David Owen also announced that he's signed a film deal for 'Panther', his debut novel, with Element Pictures!
In other news, Maximum Pop Books announced the winners of their first
bookish awards
, the #SundayYA chat had an awesome discussion about art in YA (and announced that the aforementioned Katharine and Elizabeth Corr will be joining the chat on the 23rd of October), and Dahlia Adler recommended a boatload of
queer-girl YA being released in 2017
!
The rock scene:
If you like pop-punk, this is the week for you to go crazy buying new releases:
I know OneRepublic don't really fit in with the rest of these releases, but they're worth a mention! The most exciting of these is definitely either Green Day's 'Revolution Radio' or Sum 41's '13 Voices', both comeback albums from very formidable forces.
You Me At Six have announced their tiniest show in years, headlining London Dingwalls (500 capacity!) on the 26th of November for the Dr Martens Stand For Something tour. Tickets go on sale on Wednesday: you don't want to miss out.
Talking of buying tickets, Glastonbury 2017 has already completely sold out. Bummer! Let's hope the line-up was worth it...
If you're arty, you might want to enter
twenty one pilots
mysterious Alexandra Palace-related
contest
.
Oh, and The X Factor live shows started, and the first eviction
got rid of the novelty act
. It might actually be a proper competition this year!
That's everything that happened this week (or at least everything I can remember!). I'll see you this time next Sunday for another recap.