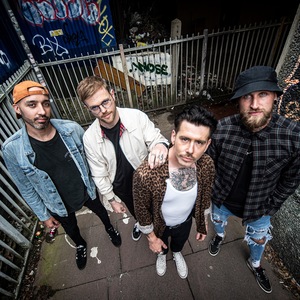 Openers
A Way With Words
are from Swindon, same as me, but I hadn't heard of them until they were added as the local act at this show which was a nice surprise.
With a sound that verges on nu-metal at times - most noticeably on the currently unreleased 'Somewhere' - they wouldn't have been out of place among bands like Papa Roach and Limp Bizkit back in the early '00s. Combining that with their technical guitar work and repetitive lyrics (sometimes almost unbearably so) means that they do seem a little dated: it feels like you're listening to a band who've been touring for over ten years, not one who released their debut EP merely two years ago.
But reviving a sound that's not currently getting much recognition isn't a bad thing, and A Way With Words are standing out from other local bands by choosing to explore this side of the genre. They certainly know what music they want to make and are dedicating themselves to perfecting a style that is difficult to master.
A good chunk of the songs in this set haven't been officially released yet (you can explore their current releases
on Soundcloud
) but I can tell you that they're the sounds of a band who're going to go on to do bigger things. 'Days Get Darker' was certainly a memorable moment of their set, which, along with the rifftastic closer 'Paper Thin', are songs you won't be able to get out of your head once you've heard them.
I'm going to keep an eye on these four and hopefully go along next time they play a show in Swindon, because they have a lot of promise.
Setlist:
Mr Anger
Over The Top
Days Get Darker
Crowded
Drowning
Somewhere
Paper Thin
Ashestoangels
blew me away
at Download
, and it was the first time I left one of their shows feeling utterly impressed. Losing bassist Nico Veneré was the best thing that could have happened to them: it gave the band a new lease of life when they'd started to flag.
Their set was used to promote their newer material, performing a whopping six songs from brand new album 'How To Bleed', released back in April, and three songs from 2014's 'Horror Cult'. It was my tenth time seeing the band (thanks to festival sets and support slots) but it felt like a completely different show thanks to the removal of older songs like 'Dorian' and 'Wintervention', both of which have been constant staples in their set.
This change wasn't disappointing: it was refreshing.
Vocalist Adam Crilly always throws himself around the stage, but his energy seems to have been refuelled by getting to perform this new material. I was five rows from the front and was still getting splattered by the sweat flicking off of his newly red-streaked hair - that's an impressive feat! Compared to the tension that plagued their live shows twelve months ago, this is a band that have never been happier, and their sets are now a joy to watch. The new members elevate the songs to the next level, with synths and backing vocals adding layers to songs that were previously rather basic, and I think these new additions might be all that was needed to properly launch Ashestoangels from a DIY underground band to more mainstream realms.
They've been constantly supported by the scene for the past few years, with articles in Kerrang! and support slots from William Control and Aiden to the soon-to-be finished FVK, and that combined with their hard work seems to be allowing them to finally get the recognition they deserve. If the professionalism of the lyrics and the polished nature of the new songs is anything to go by, Ashestoangels next album could be their most successful to date.
If you want to see an energetic live performance, I'd highly suggest you attend an Ashestoangels show.
Setlist:
Not In My Name
The Wake
I Could Never Miss You
Bound and Broken
Something To Believe
666
Down We Go
The Ghost in the Machine
Run
It's been a long time since I've actively listened to
Fort Hope
.
I sheltered from the rain in their tent at Download and found myself unimpressed, but there was no reaction from the crowd (the majority of who were also only in there to keep dry) so I wondered if that might have been the source of the disconnect.
Now I'm thinking it might be the band themselves.
The reaction at the Cellar was electric. A large chunk of the audience were wearing Ashestoangels shirts so I'd worried that the place was going to empty before Fort Hope could start, but more people crammed in and filled the floor almost to bursting. When the band took to the stage, the dubstep-esque intro seguing into new single 'Say No', the room exploded with movement despite the song only
being released
earlier in the week.
The thing about Fort Hope is, they're not unique.
With riffs that could be straight out of Don Broco songs, and drum beats that are almost carbon copies of You Me At Six tunes, Fort Hope are an amalgamation of the best parts of the current UK rock scene, but they don't have a USP.
Vocalist Jon Gaskin has an insane range, but with their formulaic writing style he performs the same tricks multiple times in an evening. Instead of being consistently impressive they quickly become predictable. With high notes that almost - but don't quite - rival those of Kellin Quinn from Sleeping With Sirens, and roaring low notes that wouldn't sound out of place in a hardcore band, it feels as though Fort Hope are trying to cultivate a mass appeal by using multiple techniques... but they don't know what music they want to create yet.
You can feel it in the contrast between the boringly repetitive 'That's The Way The River Flows' and the upbeat 'Sick'. The band seem to get more serious with every song they put out, but two years ago ('Sick' being a track on their self-titled second EP) they were having fun, and it was coming across in the music they were making. Jon introduced 'Sick' by dedicating it to someone in the crowd called Ben, saying "it's a funny song really, because it's about telling someone... Actually, no! I'm not gonna say it, it's too rude!". Proof that they have good senses of humour and could get the crowd laughing if they would just interact with them a little bit more, something that would make their set more memorable.
I wonder whether the departure of founding member Andé D'Mello has anything to do with this shift, because it all seems to have gotten very introspective and brooding since he left.
It also doesn't help that they aren't committing themselves to releasing a full-length album. They released mini-album 'Courage' back in 2014, but since then it's been EP after EP, with 'A R m U R E', - their third consecutive EP - being released on December 2nd. When Jon mentioned this there were groans from the crowd, with someone stood behind me shouting "Not another EP!".
I wish I was exaggerating. If the band don't feel comfortable releasing a more cohesive collection of songs, I think they're going to find themselves alienating fans quicker than they can attract them.
It's a crying shame, because they're brilliant at performing live. All three members are insanely talented, and if they weren't releasing songs that sounded so much like already successful tracks, they'd quickly become a force to be reckoned with in a scene that's crying out for 'New Life'.
I think Fort Hope need to take a break to re-evaluate what they want to do with this band, because at the moment it feels as though they're struggling to stay afloat.
Setlist:
Say No
That's The Way The River Flows
Start Again
Skies
Run Fast
Sick
New Life
Tears
Crosses (*)
The Rapture (*)
Plans (*)
(*) Thanks to
Oxford Gigbot
for the end of the setlist - I had to leave early!