(Top Ten Tuesday was created by
The Broke and The Bookish
!)
Because it's Halloween next week, this week's Top Ten Tuesday is a scary freebie. I've decided to talk about the creepiest book covers in the world, because that way I can show them to you and terrify you as well...
10) 'Slasher Girls and Monster Boys'
When you first look at this cover it's actually sort of adorable! But then you look longer, into those dead eyes, with those huge teeth just waiting to bite your face of- RUN! RUN AS FAST AS YOU CAN! FLEE THIS PLACE.
9) 'Girl of Nightmares' by Kendare Blake
'Anna Dressed In Blood' is a little scary, but then you see the cover to the sequel and she's almost on fire BECKONING YOU TOWARDS HELL. What the heck. Oh god. Oh why.
8) 'Monstrumologist' by Rick Yancey
I'm disturbed by this unidentified thing in a jar because it reminds me so much of the pickled babies on the title sequence for season one of 'American Horror Story'. Urgh.
7) 'A Madness So Discreet' by Mindy McGinnis
At first glance this cover looks so beautiful, and then you realise she's BEING DRAGGED TO HELL. OH JEEZ. WHAT THE WHAT.
6) 'Miss Peregrine's Home for Peculiar Children' by Ransom Riggs
Creepy children = BIG no no.
5) 'Horrorstor' by Grady Hendrix
This is no ordinary IKEA magazine! It looks so comfortable with the bright colours and fake foliage, and then OH MY GOD THAT'S A FACE THERE'S A FACE IN THE WALL WHAT THE F-
4) 'Asylum' by Madeline Roux
Looking at the cover of 'Asylum', I genuinely believe it could be one of my favourite books of all time. I'm just not ready to pick it up just yet...
3) 'Shutter' by Courtney Alameda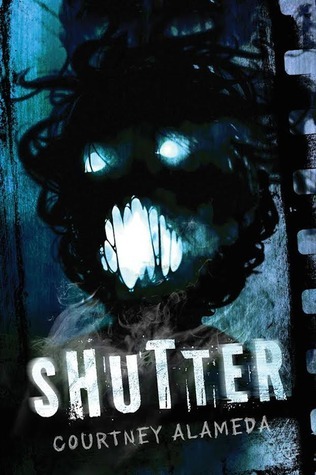 *uncontrollable screaming and sobbing*
2) 'The Trees Crept In' by Dawn Kurtagich
Woods are scary enough, without their trees coming to life and hunting people down. (I don't know if that's actually the plot of this book, I'm too scared to read it).
1) 'Daughters Unto Devils' by Amy Lukavics
There is a house in her face, blood dripping everywhere and the word KNOCK scraped repetitively all over the cover. What about this doesn't incite fear?! The US cover is also disgracefully scary:
Shudder shudder. This is two spooky covers for the price of one!
I hope you enjoyed this Top Ten Tuesday! What are the scariest book covers that you've ever seen?