(Top Five Wednesday was created by
GingerReadsLainey
. Find out more at the
Goodreads group
!)
I recently discussed my ten favourite
comic book villains
, so even though I'd really like to include all of those they're disqualified.
5) Crowley
Crowley, demon and King of Hell, is my favourite character from Supernatural, but it's not the only representation of his character that I've loved - his character is the best thing about 'Good Omens', and even though he's supposed to be evil his heart is too pure to succeed at that.
4) Sebastian Morgenstern
I loved Sebastian because he added such an interesting dynamic to The Mortal Instruments series. Whereas the first couple of books were the gang versus the demons and the big bad Valentine, adding in the mysterious and equally dangerous Sebastian really ramped things up.
3) Damon Salvatore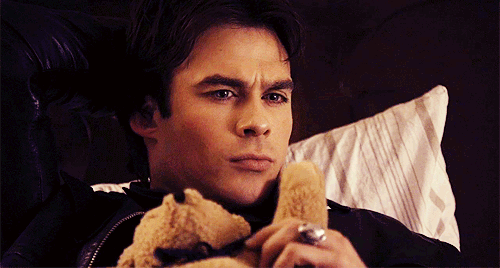 I can remember Damon being a veritable bad boy in the novels, but in the TV show he's the character that everyone loves to hate and hates to love.
2) The Darkling
The Darkling was my favourite thing about the Grisha trilogy, and I felt like he was extremely misunderstood. I didn't think of him as a villain, but as a victim: of himself and of his circumstances.
1) Negan
Last year, I fell out of love with 'The Walking Dead'. Everything was cliched and predictable, the characters were standard and none of the developments were exciting. Then Negan - and Lucille - arrived on the scene, bringing life back to the show and making it my favourite thing on TV once more. Jeffrey Dean Morgan has made me fall in love with the man that I should rightly hate, and that proves what an amazing actor he is.
I hope you enjoyed this Top Five Wednesday! Who are your favourite villains?