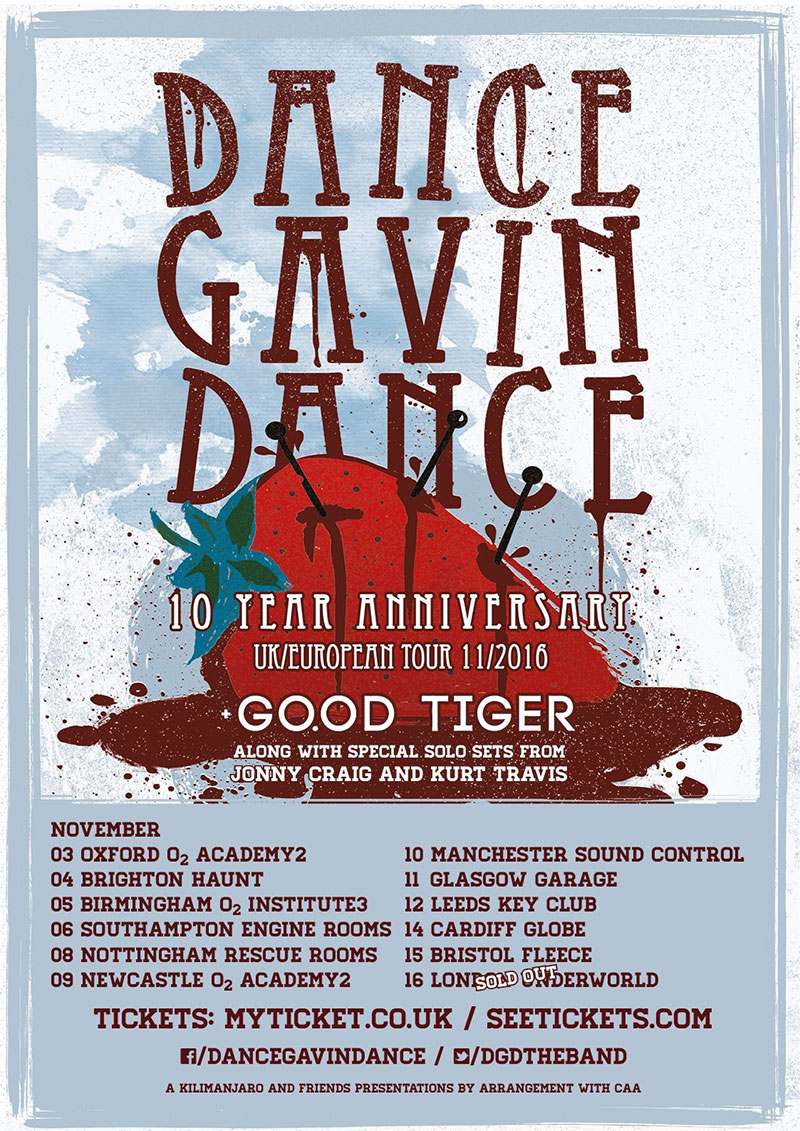 I don't think anyone attending the show was expecting Kurt Travis's set to have such an early start time, because when he took to the stage there were merely a handful of people in the room.
It was a crying shame, because his solo material is beautiful. From the sprawling 'The Valar' which times in at over 5 minutes, to the uniquely crafted 'Stay Please' with its first verse made entirely of one-syllable words, Kurt's 10+ years in the music industry have made him a highly accomplished song writer.
There were moments whene his voice sounded a little rough and as though he was struggling to hit the high notes, but rather than detracting from the set it added to the emotion that was pouring from the songs.
Closing with the bittersweet and mournful 'Desperate' Kurt reminsced "I remember you used to light up the room, and to me you still do. I feel like I'm losing you. I'm starting to feel desperate", a sentiment which is going to be easy to relate to for the majority of listeners. We're lucky that he managed to squeeze it into his set, as before he started the song he announced that he only had a minute of his stage time left and he was only able to "play for about thirty seconds". Thankfully he wasn't interrupted, and it was a special moment for him to finish his set on.
Setlist:
The Valar
Wha Happen?
Stay Please
Everything Is Horrible
Desperate
After half an hour Kurt was back on stage, this time to play guitar for Jonny Craig. The vocalist joked as he walked out on the stage that he was "gonna play the shortest set I've probably ever played in my life" and he wasn't lying, his three song set comprising of one original song and two covers.
It was my second time seeing Jonny perform live - the first being with Slaves, during their triumphant
Download festival
return at the start of summer - and while this felt more impressive I was disappointed that it was so brief. I know that was the point of the shorter acoustic sets, but for Travis to perform almost double the amount of songs that Jonny did while Jonny's set was later in the night? That didn't make much sense to me.
He doesn't need a full band around him, and this stripped back set showcased and complemented Jonny's voice, particularly on his cover of 'Cry Me A River', during which Kurt Travis contributed backing vocals in the form of the call and response line "Don't act like you don't know it". The chemistry between the two men is a joy to watch - Kurt feeding lyrics to Jonny during 'Rolling Stone' which he admitted they "hadn't tried [...] for a bit", and both of them cracking up after Kurt's aforementioned high-pitched line in 'Cry Me A River'. The two men perform brilliantly together, and there wasn't a moment of the set that fell short. I'd love to see this collaboration do more in the future.
It felt as though the majority of the crowd were there to see Jonny's return, as there were hollers and whoops every time he performed a vocal trick as though we were attending some kind of hardcore gospel church. He certainly has a talent, and he's a force to be reckoned with, but the problem with Jonny is that he knows it. His confidence verges on arrogance at times, and that won't fly for long.
Setlist:
Children of Divorce
Rolling Stone (The Weeknd cover)
Cry Me A River (Justin Timberlake cover)
I already had tickets to the show when
Good Tiger
announced on stage at Download festival that they were going to be the main support for this tour, but I didn't really know anything about them at that point. Since then I've discovered that
Good Tiger are a supergroup
comprising of ex-members of Tesseract, The Faceless, The Safety Fire and an ex-touring member of Architects.
A lot of people were attending purely for the chance to see this new and exciting band in an intimate setting, proven when Kurt asked the crowd how many of them had heard of Good Tiger and there was a roar of cheers, one member of the audience even quipping "Very Good Tiger!".
I will admit: I had problems with their set. Plagued with mic troubles, vocalist Elliot Coleman was either completely inaudible or straining to be heard over the rest of the band, particularly over the drums which seemed to be overpowering every other instrument. Those issues wouldn't have been the fault of the band, but it still made it difficult to enjoy when I could see his voice moving and couldn't decipher anything he was singing.
Those sound issues were probably the entire reason that I didn't feel as impressed with them at this show as I did at their festival appearance. The energy level was higher, the members all refusing to stand still as they performed and the crowd starting a new moshpit in the middle of every song, but there was a disconnect that I couldn't get over.
(While I'm mentioning moshpits, big shout out to the guy who was stood at the side picking up everyone who fell down despite not being involved himself - there's good etiquette!)
As well as playing 'Aspirations', the song that they've recently shot a music video for, they also inserted a brand new song into the set: 'Float On'. Having all come from other bands it's no surprise that they're musically competent and this was proven by their ability to get every member of the crowd headbanging and moshing to a song that they would have hardly known.
It's just a shame that it sounded so very familiar to the rest of the songs in their set. I'm not going to accuse Good Tiger of being one-trick ponies, because they haven't released enough material to really be able to tell, but they know what they're good at and they're not going to deviate too far from that format.
Setlist:
Snake Oil
I Paint What I See
Aspirations
Float On
All Her Own Teeth
Where Are The Birds
Dance Gavin Dance
are no strangers to line-up changes, but they might be one of the first who've decided to honour their ten year anniversary by bringing their two ex-vocalists along for the ride with them. To get them on board for guest appearances is one thing, but to showcase them by allowing them to do solo acoustic sets? That's undeniable proof that there's no bad blood between these men.
I'm not sure if it was nerves, this being their first time back on UK soils in almost four years and the special guest appearances rapidly approaching, but screamer Jon Mess seemed extremely uncomfortable and disinterested throughout the first half of the set. It seemed as though he was going through the motions, and it was very stiff and uncomfortable to watch compared to the fluid movements of current vocalist Tilian Pearson who was dancing around the stage uninhibited.
But even Jon's nerves couldn't take away from the electricity that was buzzing around the venue throughout their entire set. With songs featuring backing vocals from both guitarist Will Swan and touring guitarist Andrew Wells, the layering adding a complexity that elevates the songs to another level.
It came to a head at the end of the night during 'Uneasy Hearts Weigh The Most', which featured appearances from not just the ex-vocalists but from Tilian too. You'd think four vocalists on one stage - as well as two backing vocalists - would be too much, but the gang vocal that weaves throughout the song and the call and response "Oh my god I like her!" "Yeah, I heard you like her..." works much better with a larger group. The fact that all of the members were joking around with each other during the song definitely added to the atmosphere,
as you can see
from when they performed it in America.
That's what I really came away with from this show: my favourite era of Dance Gavin Dance is all of them. I loved the enthusiasm that Kurt displayed, particularly at the end of 'Carl Barker' when he was struggling to catch his breath after all the running around, announcing "That one's a doozie!". I've always been a fan of Jonny Craig, and even though the sight of him spitting on stage was a tad off-putting it just added to the swagger that defines every single one of his performances.
But despite the fact that this evening was a celebration of their past vocals and achievements, Tilian still shined. He's the newest member of the band, but he's definitely an integral part, and I think the direction that they've gone in with brand new album 'Mothership' proves that this band might be 10 years old, but it won't be surprising if they go for another ten years at least. They've been very lucky to replace one talented vocalist with another time and again - I just hope Tilian sticks around.
Setlist:
Chucky vs. The Giant Tortoise
Stroke God, Millionaire
On The Run
Strawberry Swisher, Pt. 3
Betrayed By The Game
Tree Village (ft. Kurt Travis)
Carl Barker (ft. Kurt Travis)
Alex English (ft. Kurt Travis)
Spooks (ft. Jonny Craig)
Lemon Meringue Tie (ft. Jonny Craig)
And I Told Them I Invented Times New Roman (ft. Jonny Craig)
-
Uneasy Hearts Weigh The Most (ft. Kurt Travis and Jonny Craig)
We Own The Night