I know I'm having a bad month when my book buying goes completely out of control. Unfortunately, November has been one of those months. All of the stress from Blogtober and NaNoWriMo have combined, and it's resulted in what I think might be my biggest book haul of the year.
Buckle up, this might take a while:
eBooks:
I actually bought 'The Bone Dragon' and 'Lies We Tell Ourselves' at the very end of October, but I'd already posted my haul, so thought I'd showcase them here instead! I hadn't heard much about Robin Talley's release before, but I've been seeing some very problematic comments about it on Twitter, which has made me a lot less excited to read it.
MCM haul:
I had no self-control at MCM this year, so I bought all of these beautiful graphic novels and books. The Throne of Glass novels and the two Marie Rutkoski books were all in an offer - buy 3 for £5 - so they were the cheapest I was ever going to be able to get them.
I actually bought the third volume of 'Gotham Academy' the week after MCM, but was easier to showcase it here. My precious!
Library book sale:
Lots more library books that I've bought to keep forever. I worked in a couple of libraries I'd never worked in before this month, so I had to scavenge through their book sale books. Particularly happy to get hold of a copy of 'Born Wicked' - I loved it so much and want to reread the first two novels before I dive into the third book in the series.
Charity shopping:
My best friend started volunteering in a charity shop, and she gave me insider info: they had a sale on, and all books were 3 for £1. I grabbed a load in there, but also explored the rest of the charity shops around Swindon, where I found three SIGNED proofs! Tell me that's not a lucky day of shopping!
bookbridgr:
Just one book from bookbridgr this month - the conclusion to J.P. Smythe's Australia trilogy. I really enjoyed 'Way Down Dark', but was waiting for this third installment to be released before I read the second book in the series: now I'm looking forward to finishing this series off.
Competition: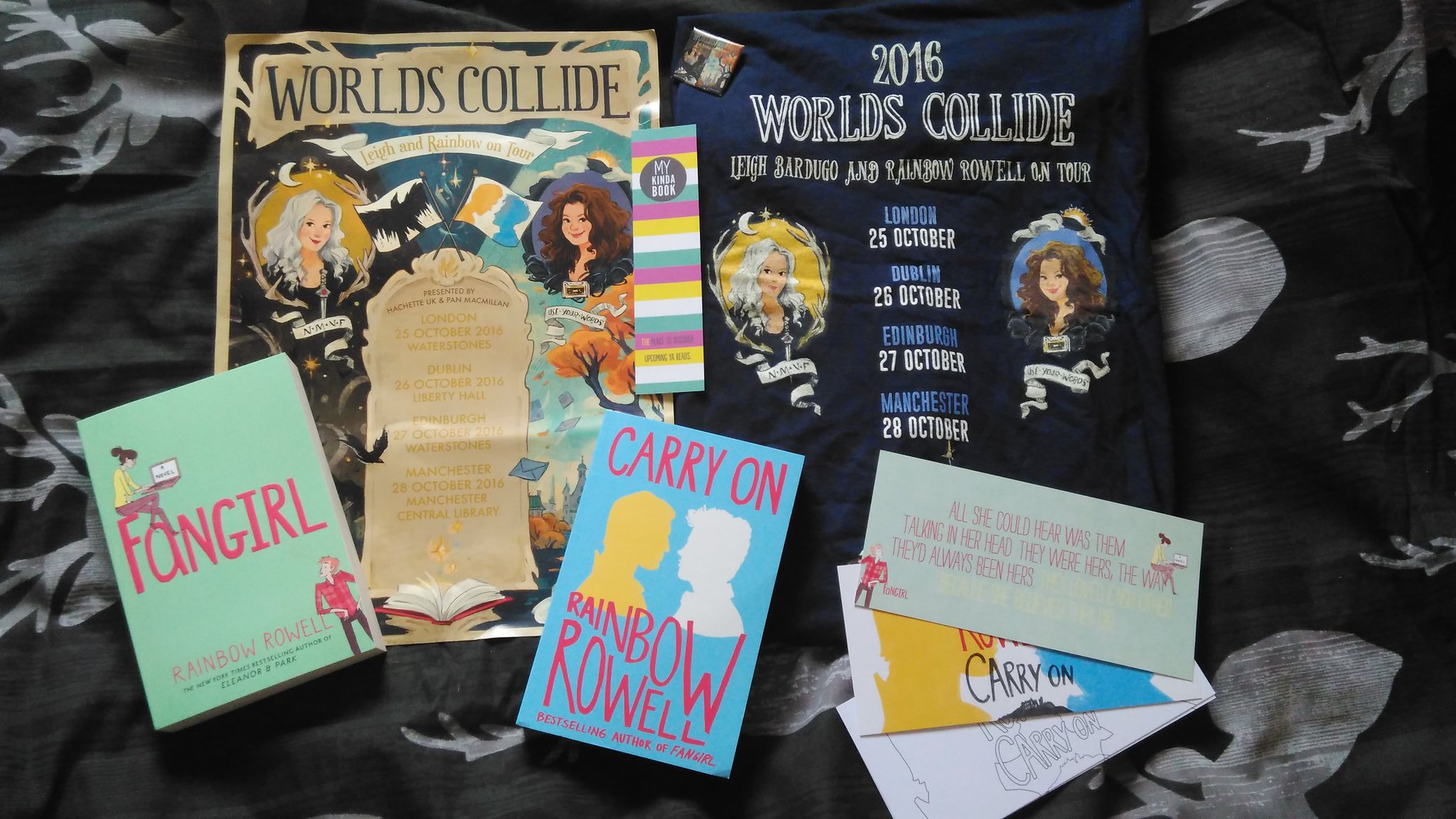 I managed to win My Kinda Book's Worlds Collide swag competition, and in that package came two - not one, but TWO! - signed Rainbow Rowell books! Thank you MKB, you rock <3
Owlcrate:
When Owlcrate announced that the box theme in November was going to be Alice In Wonderland, I knew which book was going to be included. What could it be, other than Marissa Meyer's highly anticipated 'Heartless'?
Illumicrate:
This month, my Illumicrate had two books - a special thank you from Daphne for being one of the first Illumicrate subscribers, way back when the first box was released. I'm looking forward to many, many more of these boxes in the future.
Of course, Illumicrate was still stuffed with all of the usual goodies as well, including beautiful Jennifer Niven double-sided postcards advertising both of her novels! I only wish I had a second pack so that I could stick them all up.
I'm disappointed in myself because I acquired 52 books this month - the most I've bought at any time this year, if I'm right - but I'm also proud at what I acquired: most of these are super awesome, and you can't deny that.