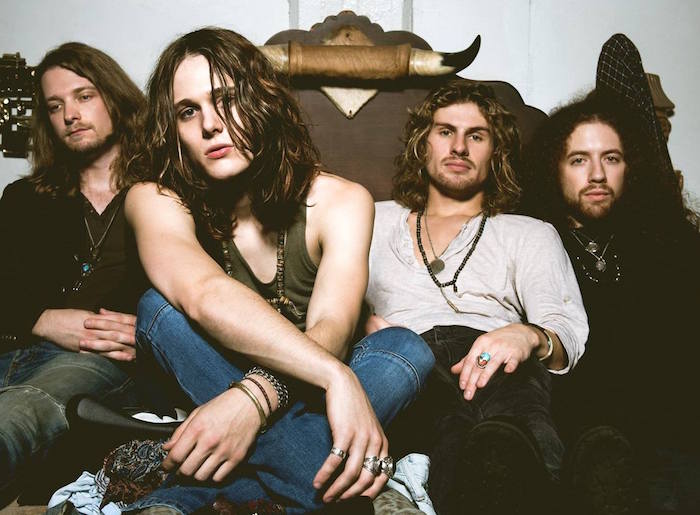 I'd never heard of Tyler Bryant and the Shakedown before, but when the venue offered free entry to the upstairs show for all Skindred ticket holders, I knew I had to check them out. I love discovering new music, and it turned the evening into a mini-festival, running up and down stairs between the venues to see as much of each band as possible. You can read my Skindred review here.
I'd been very excited to see Evarose for the first time, so I only went upstairs for the end of Coldredlight's set.
I found myself sucked in very quickly. They finished a song to polite applause, and while vocalist Gaby-Elise was talking to the crowd, drummer Casper Miles grabbed a bass guitar and started tuning it. Gaby's head shot round and she asked "Oh, is this happening?" and when Casper continued to play they launched into 'I've Got Mine' by Small Faces. To be able to play bass guitar and drum? That's a level of skill I can hardly comprehend. And they say men can't multitask!
I can only find one of their songs online: the track they closed with, '
Little Scorpion
'. The outro was insanely complex, layered and building to a roaring climax, and it hinted towards great things to come from this duo. Having only been added to the show that morning they did a brilliant job, and I wish I'd been able to see more of their set.
After having supported both AC/DC and Guns 'N' Roses, I have no idea how the crowd for Tyler Bryant and the Shakedown was so small. Even with the free entry for Skindred customers there were at most 75 people in the room at the end of the set - rising from under 50 when they took to the stage - and that's a damned shame.
I was expecting the room to be fairly empty at the beginning, as Raging Speedhorn were retaining their huge crowd downstairs by putting on a raucous performance, but I thought after their set finished more people would have climbed the stairs to give a band they didn't know a chance. I'm disappointed that that wasn't the case.
But they're the ones that missed out, because by taking a risk and popping upstairs I saw one of the most dynamic shows of my life. Within moments of taking to the stage their energy level was astounding, and it's easy to see how they've become such regulars at performing in arenas and stadiums across the world.
I hadn't heard of the band before, but you could tell that there were people in the room who had: all of the people who stood at the barrier sang every single word back to Tyler, reaching out for his hand and yelling and screaming at the end of each song. Despite the poor turnout, the fans who were in attendance made the show unforgettable: their enthusiasm showed how much they cared about the band, and that was far more important than having a room full of disinterested listeners.
Tyler reminds me of The Struts vocalist Luke Spiller, who also has bountiful levels of swagger - and a penchant for wearing scarves and layered necklaces - when he's on stage. Musically, I found myself drawing comparisons to Highly Suspect and Royal Blood, but it's hard to directly compare Tyler Carter and the Shakedown to anyone: they act like a much more experienced band with their crazily extended guitar solos and impromptu jam sessions. It's hard to believe that they've been together for less than ten years and that their debut album 'Wild Child' was only released in 2013.
Each member is an asset, and they all have an unquenchable chemistry. Tyler was dancing across the stage towards guitarist Graham Whitford, and when they leaned back against each other playing their guitars they both had the widest smiles on their face, loving every second that they were on stage with each other. Drummer Caleb Crosby is definitely a loose cannon, wandering around the stage with a tambourine during 'House That Jack Built' and taking half of his drum kit down to the crowd to play a huge drum solo during 'Lipstick Wonder Woman', sitting casually on the barrier and handing his sticks out to fans before jumping back on to the stage.
Tyler shared that it was "an honour to be in the UK" with "my best buds in the world. We all just love rock 'n' roll" and that they "would do this even if you didn't show up, but the fact that you showed up means a lot". I wish that more people had turned up for the band's first trip to Oxford, but I'm actually grateful that I've managed to see them in such an intimate environment - in years to come, when they're headlining venues ten times the size of this one, I'll be able to look back on this very special moment with joy.
I was sad when the band had to finish their set, because I was having such a brilliant time. They had to finish before Skindred took to the stage, though, so they had less than an hour on stage, but they stuffed in with hit after hit. I can't wait to listen to this band more in the future.


Setlist:
Devil's Keep
Criminal Imagination
House On Fire
Downtown Tonight
Got My Mojo Workin' cover
Stitch It Up
House That Jack Built
Lipstick Wonder Woman