(Top Ten Tuesday was created by
The Broke and The Bookish
!)
I get excited about books a lot. (Haha, you'd never have guessed
that
!) But oftentimes I get excited about a plot and a title and I don't realise that it's the authors debut. I did it this year with 'Simon vs. the Homo Sapiens Agenda', as well as purchasing 'An Ember In The Ashes', 'Red Queen' and 'My Heart and Other Black Holes' before realising any of them were debuts.
This means that this list has taken a lot of researching to compile. But now? Now, I need my grubby hands to be clutching these books RIGHT. NOW.
I've linked through to the Goodreads pages for each book, in case any of you want to add them to your TBR!
10)
'Blackhearts' by Nicole Castroman
'Blackhearts' is the origin story of Blackbeard the pirate.
Need I say more?
I'm not sure if I'm excited for 'Blackhearts' for myself, or just because I've heard so many amazing things about it and I want to flail my arms around, jumping up and down and joining in with the excitement. We'll find out when I read it.
'Blackhearts' publishes on February 9th.
9)
'The Leaving Season' by Cat Jordan
I'm not going to write spoilers for this book - especially because I haven't read it, so it would just be me guessing at what happens - but read the synopsis on Goodreads and it seems pretty obvious what the main point in this story will be.
Middie calls summer The Leaving Season, because it's when everyone leaves high school and packs up their bags to go to college. This year, her boyfriend Nate is going - her other half, her perfect person - and she can't wait for him to come back the next year. But then tragedy strikes...
I think it'll be interesting to see how this book is written, and I'm looking forward to it for that reason - intrigue - but I don't know if I'm expecting amazing things.
'The Leaving Season' publishes on March 1st.
8)
'This Raging Light' by Estelle Laure
Lucille has been left all alone to look after her little sister: her dad's gone crazy and her mum has left town. So it's really not the time for her to fall in love with her best friend's brother.
I've received 'This Raging Light' on NetGalley, but I'm waiting for it to get closer to the release date before I read and review it.
'This Raging Light' publishes on January 14th.
7)
'Suffer Love' by Ashley Herring Blake
Hadley St. Clair comes home from school one day to a front door covered in paper. Each piece of paper reveals a horrible truth about her father, and the fact that he's been having a year long affair. Hadley wants everyone to leave her alone... But then she meets Sam, and it feels like she's finally found home.
Yes, I know, it sounds pretty cliched, but I do love a good old contemporary romance, and this one sounds like I'll fly through it and really enjoy it.
'Suffer Love' publishes on May 3rd.
6)
'How It Ends' by Catherine Lo
Jessie and Annie are best friends... Until they're not. It sounds as though lots of bitching and backstabbing ensue, so I'm thinking this is going to be a fun and quick read.
'How It Ends' publishes June 7th.
5)
'The Year We Fell Apart' by Emily Martin
In the space of a year, Harper gets kicked off of the swim team, gains a reputation for the easiest girl in her high school and becomes the black sheep of her family. Because these three disasters weren't enough, she also ruins her relationship with her best friend, Declan.
After two semesters, Declan comes back from boarding school and completely ignores her. But Harper's mum has just been diagnosed with cancer, and she wants nothing more than to talk to her best friend. Shared histories and mutual friends draw them together again, but they need to decide which parts of their relationship to save and which parts to let go of forever...
'The Year We Fell Apart' publishes on January 26th.
4)
'A Study In Charlotte' by Brittany Cavallaro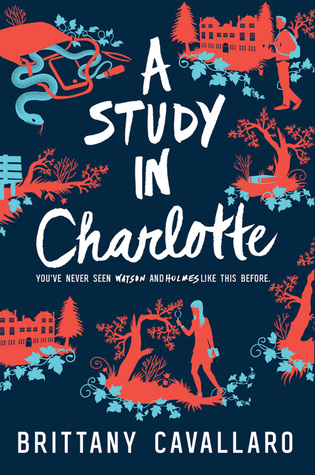 'A Study In Charlotte' tells the story of Sherlock and Watson's great-great-grandchildren, Jamie and Charlotte, who investigate a crime at the school that they're attending. You can't really beat anything relating to Sherlock, but I'm wondering how Brittany Cavallaro is going to embody such literary legends in her characters. Fingers crossed it'll work out well.
'A Study In Charlotte' publishes March 1st.
3)
'The Girl From Everywhere' by Heidi Heilig
Another pirate book? Yep, 2016 seems to be a pirate-y year so far!
'The Girl From Everywhere' sounds like a mind-blowing read: Nix's father has a time-travelling ship, and she travels with him through time and across the world. Nix's mother died in childbirth, so when her father discovers a map that can get him back to the time when his wife was alive, Nix's entire existence is in danger. It'll be interesting to see how she gets out of that!
'The Girl From Everywhere' publishes February 16th.
2)
'The Way I Used To Be' by Amber Smith
First things first, how utterly breathtaking is this cover?
Eden gets raped by her brother's best friend, and it deeply affects her. She hides it, burying it along with the way she used to be. This novel is told in four parts, across Eden's high school years, so I think it'll be very interesting to see how Amber Smith has dealt with the deep psychological scars left by something that awful.
'The Way I Used To Be' publishes March 22nd.
1)
'This Is Where It Ends' by Marieke Nijkamp
'This Is Where It Ends' is set over an hour, during an ongoing school shooting. The subject matter is harrowing and it's likely to be a very emotional read, but I'm hoping it'll be sensitively handled. I've also been accepted for this book on NetGalley, but - again - have been waiting for it to get nearer to the publishing date before I review.
'This Is Where It Ends' publishes on January 5th.