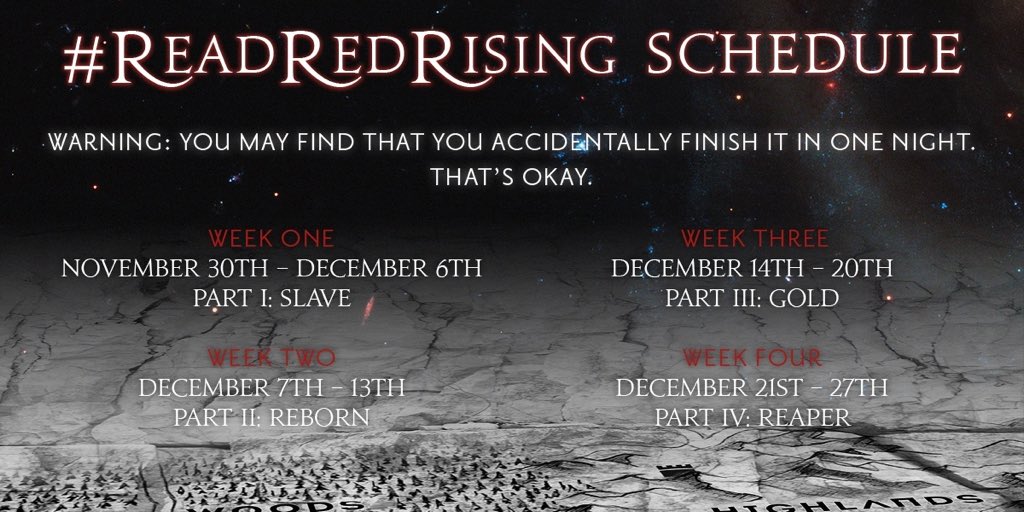 Throughout the month of December, I've been taking part in a readalong in conjunction with Hodderscape: #ReadRedRising. It involved, you guessed it, reading (or in my case, rereading) 'Red Rising' by Pierce Brown, ready to move on and read the second book in the series, 'Golden Son', in January.
If you'd like to join in with #ReadRedRising, it is not too late! Just Tweet using the hashtag and join the conversation - 'Morning Star', the third book in the series, is not out until the middle of February, so you have time to catch up!
I'm going to keep the ending as spoiler free as I can (if you want to read my full spoiler review, you can view that
here
) as we're still on week four and I'm aware not everyone will have finished, but the earlier parts are fair game!
At its simplest, 'Red Rising' is a book about rebellion. Darrow is a Red, part of the lowest cast of a society ruled by Golds. He's chosen to be the leader of a rebellion, in which he gets Carved into a Gold: his Red sigils get removed from his skin and replaced, his eyes get switched with those of a deceased Gold, and his entire being is recrafted and put through harrowing rehabilitation and training to get used to the changes. Darrow is then inserted into the Institute - the school that Golds attend to help them become all powerful leaders in their future - in an attempt to infiltrate the system and become an apprentice to either the Augustus or the Bellona families, the most powerful families on Mars.
Oh, yeah, did I mention this book was set on Mars? Do I even need to continue, or has that sold you well enough?
At the Institute, Darrow learns the hard way what it means to be a Gold. The first challenge is the Passage, in which you're pitted against one of your fellow Golds in a fight to the death: survival of the fittest. Following the Passage, the survivors must participate in a war scenario, in which they need to take control of as many of the opposing clans as they can. The winning house will automatically receive more prospects in their future, while the Primus - the head - of the house will be guaranteed a placement with one of the most powerful families that exist. Darrow knows that he needs to be Primus of House Mars, and he knows that House Mars need to win the challenge; he'll go to any lengths to achieve that end.
What follows is a terrifying rollercoaster of emotions, in which caring for characters is dangerous and will likely result in heartbreak and you'll definitely hate yourself for reading the book. But Pierce Brown is a brilliant writer, and all of the bloodshed and violence that is portrayed is necessary to the plot - there are no throwaway character deaths for shock value in this novel.
Even if you don't like sci-fi, it's close enough to dystopian - the corrupt government, the fight against them - that I'm sure you'll be able to enjoy it anyway. In fact, this time last year I hardly read sci-fi, but 'Red Rising' really started my appreciation for the genre: it's a highly accessible title.
Now, the really exciting thing about 'Red Rising'? It's actually in the process of being made into a film. So I decided that as well as writing a short review to tickle your tastebuds, I'd make a fancast of who I think should play who in the movie: it definitely won't be a film that you want to miss.
Alexia Fast as Eo:
I hadn't heard of Alexia Fast until I started doing this fancast, but as soon as I saw her I knew she'd be perfect as Eo. Eo's optimistic, young and beautiful, which makes her early death in the novel so surprising: I think Alexia would portray her brilliantly.
Jamie Campbell Bower as Priam:
Priam isn't a character that's in 'Red Rising' for long, but he's important anyway, so it felt appropriate to cast him. I think Jamie Campbell Bower would play him well, because he'd make an impression and you'd genuinely be shocked when he didn't appear for longer in the film.
Luke Mitchell as Julian:
Darrow makes fast friends with Julian, which makes it more difficult when he's pitted against him in the Passage. Luke Mitchell looks like the kind of guy that you'd love to be friends with, but I'm sure he could also portray the angst and desperation that Julian struggles with.
Beau Mirchoff as Cassius:
There's something about Beau's look in this image that screams Cassius at me. Imagining him blond, with a smug grin on his face and a razor in his hand: I can't picture anyone else playing the character that strongly. He also has a bit of a resemblance to Luke Mitchell, so he would play his brother well.
Blake Lively as Quinn:
I don't know if Blake Lively would be too old to play Quinn, but when they talk about how beautiful she is and how Cassius can't take his eyes off of her, I think you'd need someone with Blake's looks.
Thomas Brodie-Sangster as Sevro: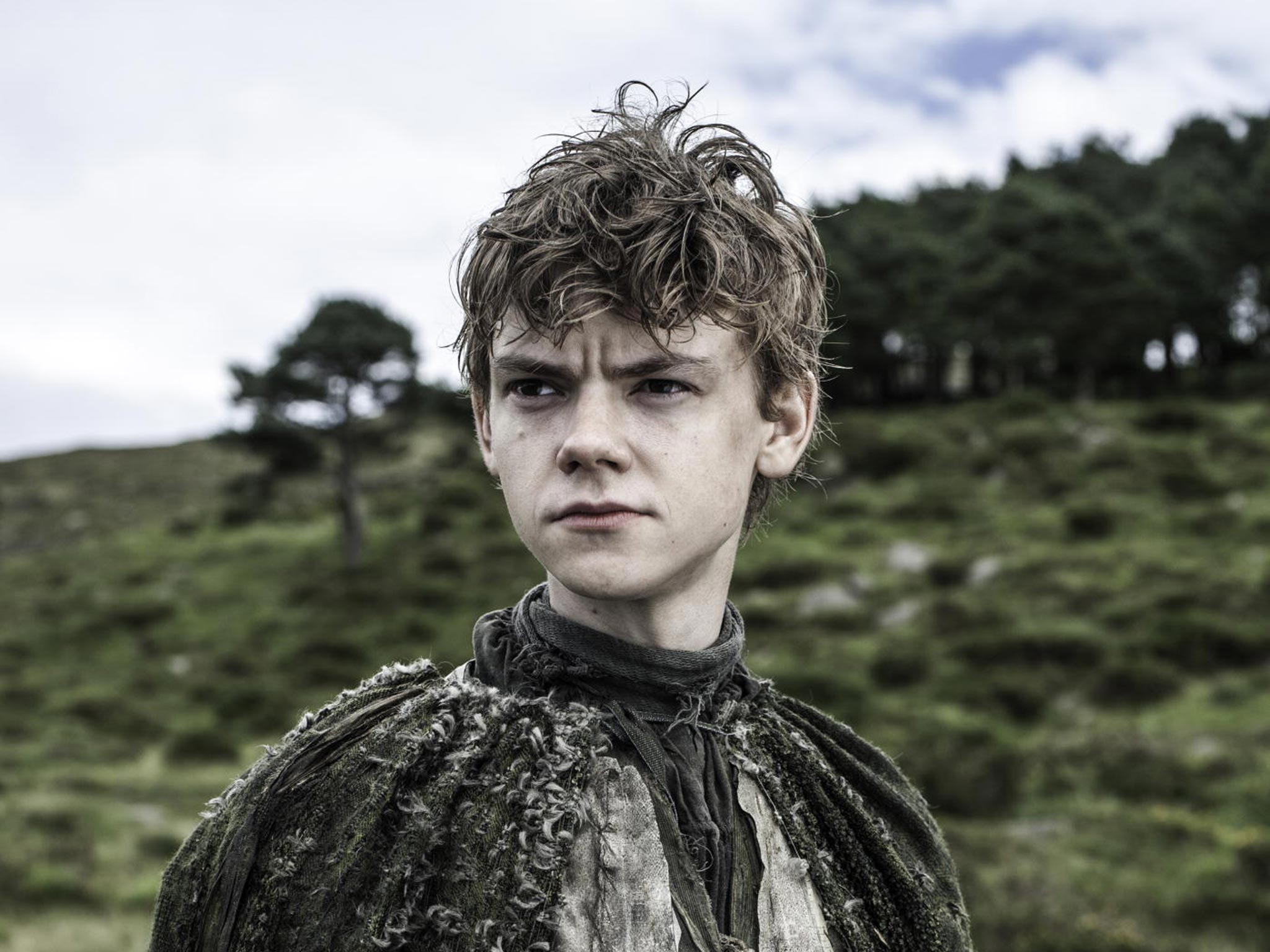 Sevro is wild and smaller than all of the other boys, but he has a strength that beats them all. I think Thomas Brodie-Sangster could perfectly embody that character, with his wolf skin and his crazy howling.
Chord Overstreet as Roque:
I think it would be good to see Chord acting in a more serious role than Glee, and 'Red Rising' could be the perfect place to explore that. He has that brooding, introspective look perfect for a poet.
Teresa Palmer as Lea:
Lea follows Roque around like a puppy dog for the first half of the novel, but she quickly comes into her own.
Greg Finley as Pax:
Pax au Telemanus is a tank, and while Greg was an absolute sweetheart in 'Star-Crossed' (well, by the end at least) he definitely looks the most likely to be able to play Pax convincingly due to his build. If Greg doesn't play Pax, he could quite easily play Titus.
Zendaya as Antonia:
Or, more specifically, Zendaya as Cut Throat as Antonia. Antonia is a badass, a backstabber and an all around awful woman: Cut Throat looks like she'd be just as terrifying.
Ashley Benson as Mustang:
Not just because I absolutely adore Ashley Benson, but because Mustang is caring and often underestimated due to her looks, so I think Ashley's baby face would work well for that role. She also kills it as Hanna Marin in Pretty Little Liars, so I'm sure she'd be able to cope with the role.
Jack Gleeson as Jackal:
After seeing him portraying Joffrey Baratheon, any evil horrific characters are always played by Jack Gleeson in my mind. The Jackal is completely unhinged.
Darrow:
I couldn't actually cast Darrow. I know that's a complete cop out, but I kind of want Alex Pettyfer to play him and he's too old now - I think it would be brilliant to get a unknown actor to portray the part.
I hope you enjoyed my fancast, and participating in #ReadRedRising. Comment below if you can think of any characters I've missed that you could cast, or if you think you could choose someone to play Darrow!
If you haven't been participating in #ReadRedRising, don't forget to start: you can pick it up for just £5.99 on your Kindle device. If you have been, don't forget to start #ReadGoldenSon tomorrow - I can't wait to finally move on to the second installment of the series, because I've been waiting all year.