The publishing world:
A bunch more
new releases
to add to your shelves:
More beautiful
cover reveals
:
In
other news
:
Philip Pullman has announced a trilogy that will stand alongside His Dark Materials. Called The Book of Dust, the first volume doesn't have a name yet but it does have a release date: October 19th.
The trailer for the 'Everything, Everything' film was released. Check it out below:
The music world:
There were a few bits of
new music
:
Ex-InVogue Records band
Restless Streets
released a new song called 'In Vogue', which the owner of InVogue
has responded to
:
BTW, saying you're "not even mad anymore" and then releasing a diss track? The definition of hypocrisy.
Welsh heavyweights When We Were Wolves have given the world 'The Gift Of Hating Me':
The Summer Set outdid everyone, releasing a movie for 'Jean Jacket' on Valentine's Day:
New Found Glory are 'Happy Being Miserable':
Oh, and there's a new
All Time Low
track, their first Fueled By Ramen release. You'll have definitely missed this news - not like they were trending on Twitter for hours after the premiere...:
Just a few small
tour announcements
:
In
other news
:
twenty one pilots accepted their first GRAMMY in their underwear...
...while Highly Suspect's Johnny Stevens wore politics on the red carpet.
Simon Webbe from Blue got engaged!
Ex-Get Scared vocalist Joel Faviere has been arrested for possession of child pornography. Not another one...
As if there haven't been enough festival announcements over the last couple of weeks, it was time for Fort Fest to get in on the action.
Austin Carlile has revealed that there was more to his departure from Of Mice and Men...
Fireball announced their 2017 Hottest Band: Sweet Little Machine.
Passion Pit frontman Michael Angelakos has started an artist support company. Providing legal, educational and healthcare services to artists, this is a necessary move.
Diamond Days have called it a day.
PVRIS are up to something...
Dan Jones from Chelsea Grin got into med school. Impressive.
As well as releasing a new song, Linkin Park released the details for their new album, 'One More Light', which will be out on May 19th.
In other album news, Incubus will be releasing their long-awaited eighth full-length on April 21st. They've very creatively titled it '8'. I wonder where they got that from?
HalfNoise (Zac Farro) announced his new EP, 'The Velvet Face', will be released on March 24th...
...and in the last of the album announcements, Volumes announced that 'Different Animals' will be released June 9th.
The Dillinger Escape Plan have cancelled the remaining dates of their European tour following their bus crash.
Sadly, Kittie's bassist Trish Doan passed away this week. She was only 31 years old. You can read vocalist Morgan Lander's statement here.
Both Fit For A King and The Browning were robbed this week, the former in USA and the latter in Italy. Ouch.
Attila got into a fight with some show security. Read their statement on the incident here.
My favourite article from the week came from AltPress. They interviewed Chrissy Costanza from Against The Current about the plight of women in music, after noticing that she's the only female on the Reading and Leeds festival line-up (so far). Her responses are eloquent and all for female empowerment - it's impossible to believe that she's only 21.
A Day To Remember are being given the key to the city of Ocala. I guess that despite hating their washed up town, the band are honoured.
Finally, Machine Gun Kelly (aka MGK) is the newest AltPress cover star. Check it out below: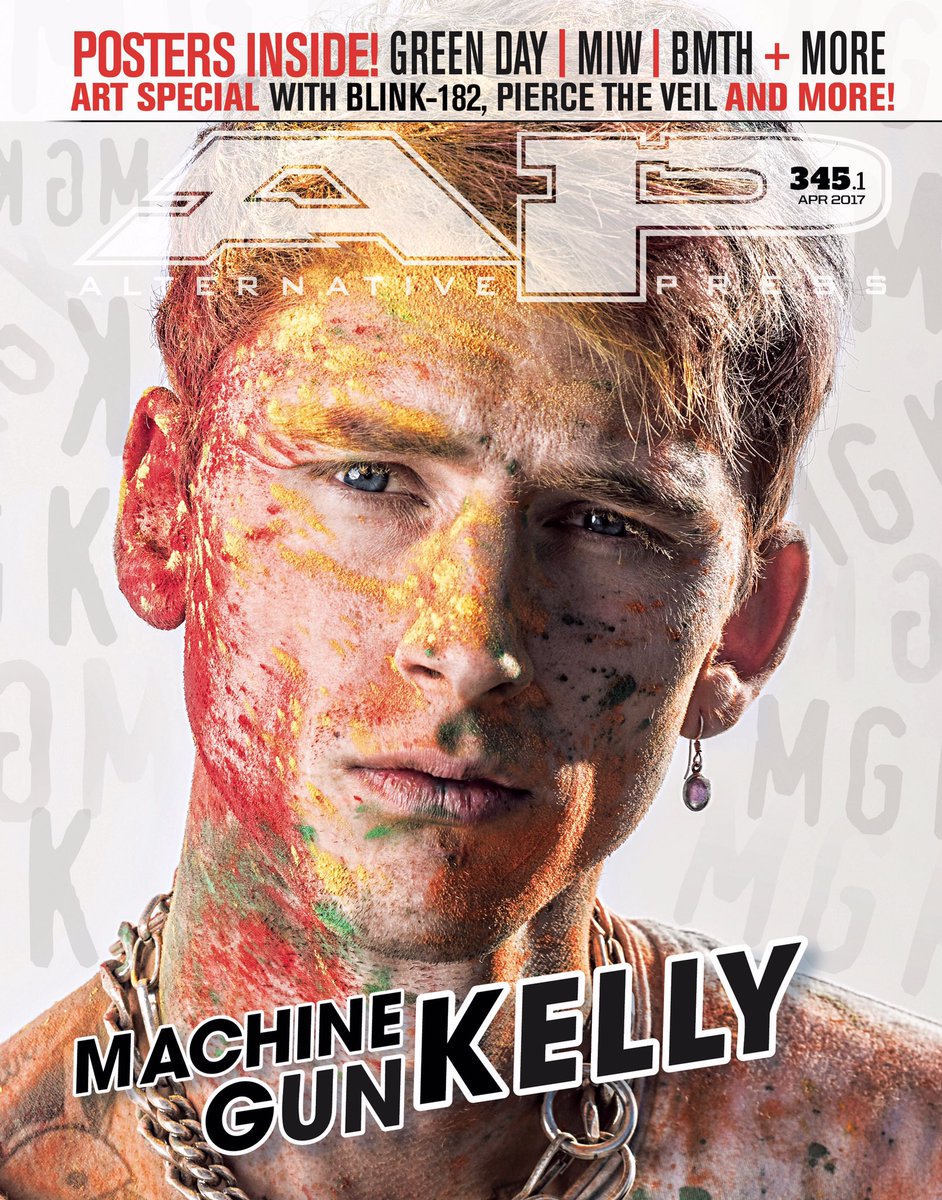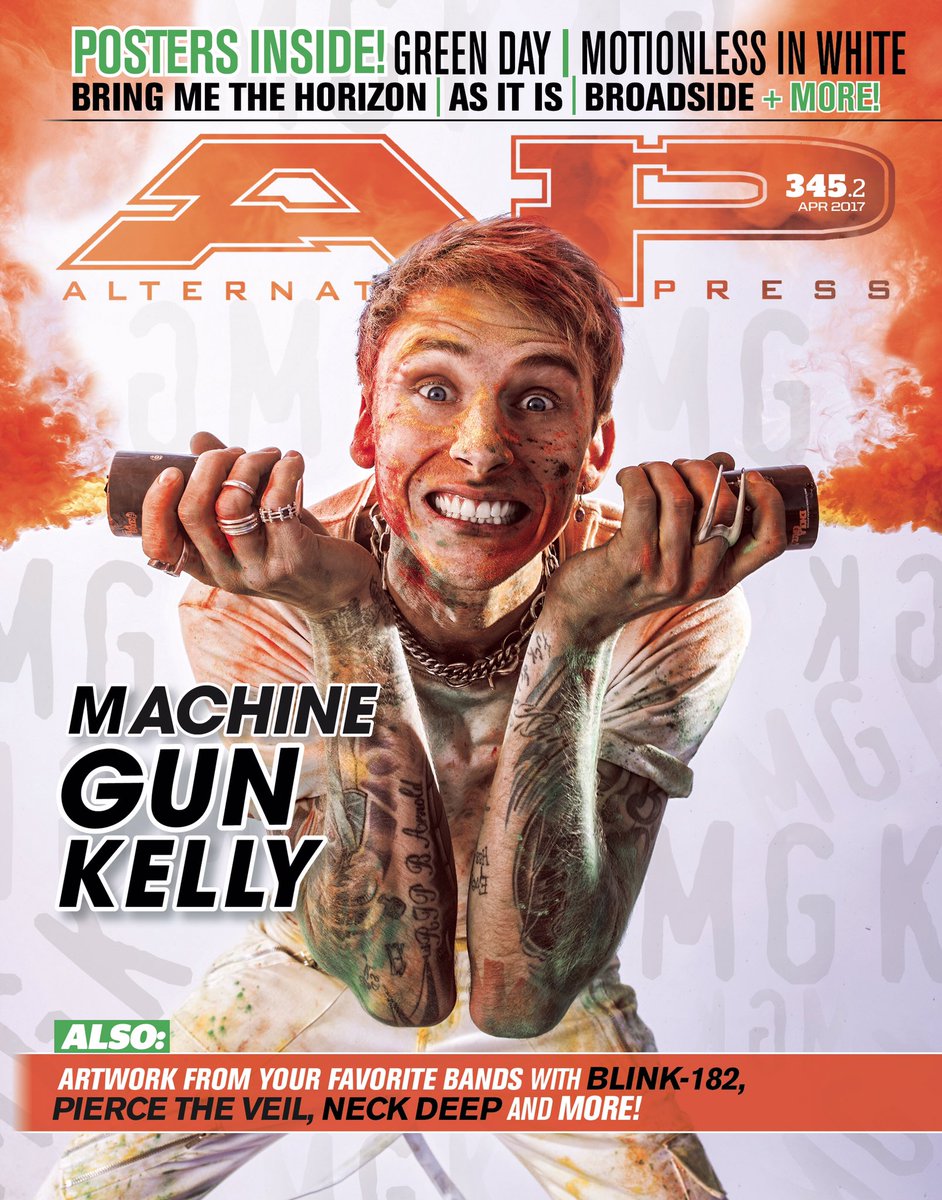 That's all for this week! Next week's installment is going to be posted pretty early, as I'm going to Bristol to see With Confidence that night - see you then.