(Top Ten Tuesday was created by
The Broke and The Bookish
!)
HAPPY VALENTINE'S DAY!
In celebration, this week's Top Ten Tuesday is all about romance. We could choose exactly what we wanted to talk about, so I've decided to talk about my ten favourite couples of all time.
These are couples who I will ship until the day I die... Even if they die first, and totally ruin all of my plans for them to grow old and die together.
10) Jasmine and Royce - Something In Between
Melissa de la Cruz's own voices novel about an illegal immigrant in America has a wonderful relationship. Royce's father is a politician campaigning against immigrants, but he doesn't let his father get in the way of his relationship and supports Jasmine at every turn.
9) Liam and Annie - 90210
Ugh, they're so painfully adorable.
The first episode of 90210 I saw featured Annie and Liam breaking up. I quickly watched all of the older episodes, so that I could see them together, and prayed and hoped through the rest of the seasons that they'd end up together.
8) Mara and Noah - The Unbecoming of Mara Dyer
I haven't read the third book in the Mara Dyer trilogy yet, but during the first and second books I cried heavily and regularly. I just wanted happiness for Noah and Mara SO MUCH, and the way Michelle Hodkin writes their relationship is so heartbreakingly relatable.
7) Elena and Damon - The Vampire Diaries
Delena is endgame. If Delena doesn't happen by the end of the final season of The Vampire Diaries, I am rioting.
6) Maggie and Glenn - The Walking Dead
In some apocalyptic situations, you have couples getting together just for the sake of it, just so they don't have to experience the end alone. Not so with Glenn and Maggie. They're perfect for each other, it just took a zombie uprising for them to meet.
5) Alaska and Pudge - Looking For Alaska
Pudge and Alaska were the first couple that I really rooted for. Before that I'd thought it would be good if relationships worked out, and I felt happy for those that did, but I didn't really CARE... Until John Green stomped all over my heart and made me eternally sad.
4) Aria and Ezra AND Hanna and Caleb - Pretty Little Liars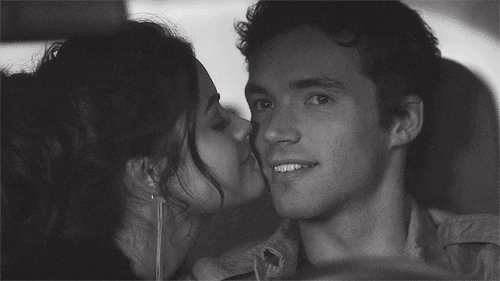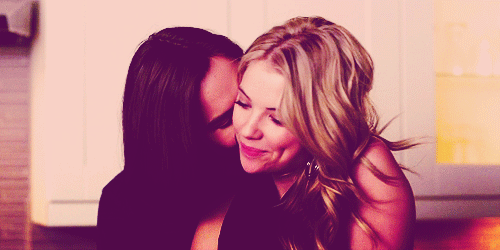 Okay, I also love Emily and Alison and Toby and Spencer, but it would have been RIDICULOUS to choose all four Pretty Little Liars couples.
I can't choose between Ezria and Haleb, though. Just look how happy they are. So beautiful. So pure.
Again, if these two aren't endgame, I'm rioting.
3) Clarke and Lexa - The 100
UGH, BE STILL MY BEATING HEART.
2) Steffi and Rhys - A Quiet Kind of Thunder
I've been talking about A Quiet Kind of Thunder a lot recently, and that's because STEFFI AND RHYS. They're the GREATEST bookish couple OF ALL TIME, EVER. I can't get enough of these two. Sara Barnard is a freaking genius.
1) Lucas and Peyton - One Tree Hill
If you haven't watched One Tree Hill yet, be warned that it is a ROLLERCOASTER. Lucas and Peyton break up and get back together and break up and get back together and break up and... Oh, it was pretty tricky to keep track. But they're my favourite couple OF ALL TIME. EVER.
I hope you enjoyed this Top Ten Tuesday! Do you ship any of these couples, or do you think all of my choices are completely wrong?