(Top Ten Tuesday was created by
The Broke and The Bookish
!)
There are a lot of characters in books that we only ever meet as children. They go on crazy adventures throughout their childhood, but we never get to know what they're like when they grow up: if they get married and have families, or if they still have insane adventures even when they're retired pensioners.
I think I'd like to visit these ten characters again as adults - whether to see who they ended up with and how, or to see if they're just as fun as they used to be.
10) Renesmee
Purely because I wanna know how that imprinting with Jacob thing works out...
9) Kitty
Lara Jean's little sister, Kitty, is BRILLIANT. I haven't read the second installment in the series yet, so I'm hoping there's going to be more of Kitty - I'd still like to be able to read her as an adult, though.
8) Noomi
Noomi, Georgie's daughter, has an addiction to meow-ing - it's one of the only ways that she communicates with her family. It's adorable (if a little annoying!) and it would be nice to see how she'd be as an adult character with less childish behaviours.
7) Sunny Baudelaire
The youngest of the Baudelaire orphans, Sunny might not have much to say for herself but she's still a very focal character in the story of the trio. Seeing Sunny as an adult would be interesting to say the least - would she still go around biting people, or would that tendency fade with time?!
6) Matilda
Matilda's intelligent and well-read, and I always think there's more to her story than is told: she gets her happy ending, but you know that her life would be a fascinating one. I always imagine she'd be a teacher and she'd help all of the children who needed her.
5) Sawyer Brooke Scott
I couldn't pick ten children in books that I'd like to revisit, but I definitely want to see how Sawyer - Lucas and Peyton's daughter - turns out. Lucas and Peyton are my favourite characters, and when they have their daughter and leave Tree Hill it's a very bittersweet moment: I'd love to see Sawyer all grown up, because then we'd get to see how Lucas and Peyton are doing!
4) Hiccup
Between 'How To Train Your Dragon' one and two, there's already quite an age difference in Hiccup. It would be nice to see him continuing to be badass, running his tribe and adventuring around the world discovering new breeds of dragon.
3) Tracy Beaker
Tracy Beaker was very mischievous, but because she knows what it's like to be abandoned by her parents you can tell she would be a brilliant mother. It would be funny to see her finally empathising with all the adults she annoyed when she was little!
2) Alice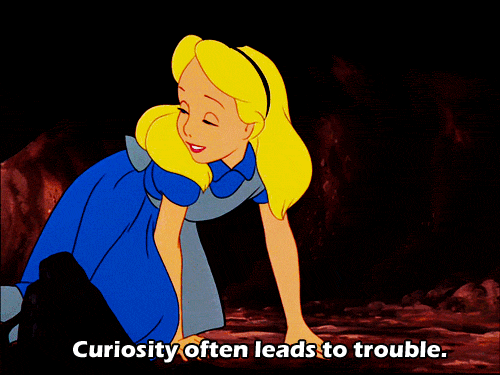 Can you imagine Alice having children of her own? They'd all be just as troublesome and adventurous!
1) Neville Longbottom
I've only just starting reading the Harry Potter series, but I ADORE Neville Longbottom. I know that we get to see some of the characters when they're older in the final book, but I don't know if Neville's one of them - I have my fingers crossed.
I hope you enjoyed this Top Ten Tuesday! Which child characters would you like to revisit?