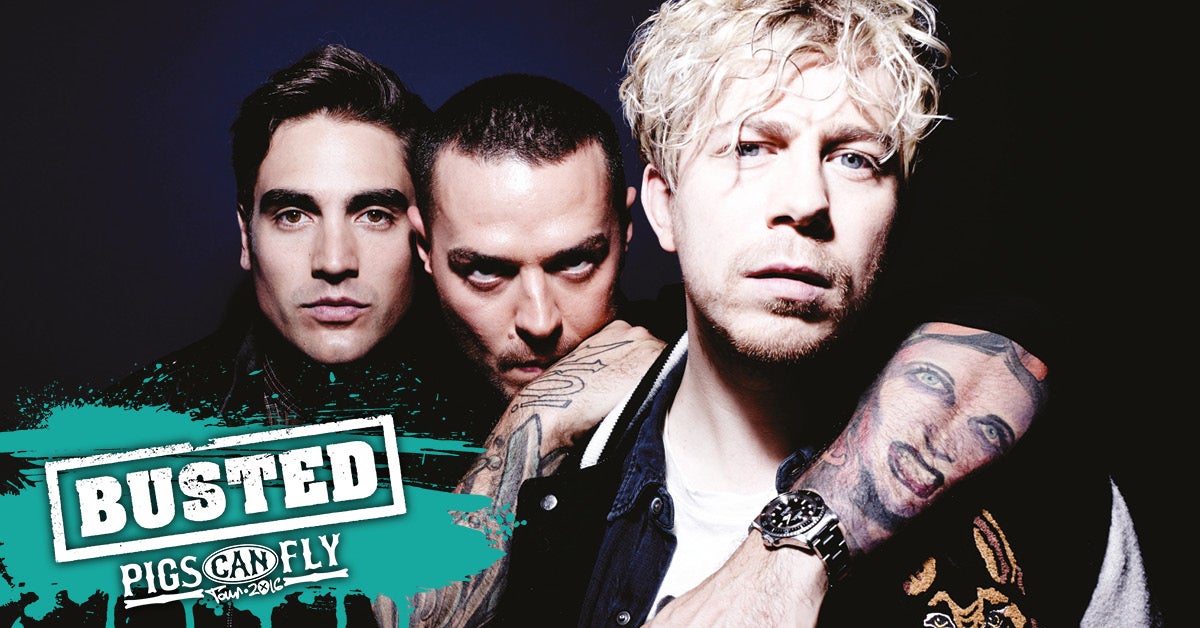 When it was announced that
Busted
were getting back together, my little heart nearly imploded. It was the biggest and best piece of news I'd ever heard. I'd see McBusted, I'd seen Charlie Simpson
performing his solo material
, but combining the two forces and getting the band back together?! Insanity.

I wasn't too excited when Emma Blackery was announced as the opening act, because I'm not a fan of the Youtube musical generation. It just seems like an excuse for mediocre teenagers to become famous.
However, I enjoyed her set much more than I'd expected. She exploded on to the stage with newest single - and EP title track - 'Sucks To Be You', grabbing the crowd's attention with her shiny silver varsity jacket and her upbeat attitude. The EP is being released next week, and she played three songs off of it (the fourth song in her set being older song 'Perfect'); all of the songs have a strong pop-punk vibe - some of the guitar work reminding me strongly of Kids in Glass Houses - but to me the songs are a bit dated.
If Emma Blackery was just starting off in the early 00's, she would be a roaring success. This is why her slot supporting Busted works so well! Her style is similar to that of early Avril Lavigne or TaTu: guitar-driven pop anthems with extremely predictable, strictly rhyming lyrics ("You go and make the pitch that you're ex-girlfriend's a bitch!") and while that was popular a decade ago, it's just not something that sells well today.
I'm hoping I'm wrong, and that Emma's EP will gain her some mainstream attention; the songs are very catchy and fun, and I'm definitely going to be buying it which is not something I thought I'd be saying this time yesterday!


Setlist:
Sucks To Be You
Perfect
Look What You Made Me Do
Let Me Be

Similarly to Emma Blackery Wheatus's set felt a little dated, but that's because over half of the songs in their set were over a decade old. I saw them four years ago, but it definitely doesn't seem that long, because I could remember 'Lemonade' and 'Leroy' despite not listened to them since. The band might not have had a ragingly popular song since 'Teenage Dirtbag', but you can't deny that they know how to write a catchy song.
However, I did find their newer material a little boring. With two harmonizing female backing vocals and the repetitive "Josephine, don't be mean" refrain, 'Fourteen' actually got on my nerves a little bit, which surprised me. I feel as though Brendan Brown's vocal is so nasal and unique that it only really works in isolation: as soon as you put backing vocals with it it's overpowered and doesn't have the same appealing quality.
'Only You' was interesting enough - a new song dedicated to fandoms, inspired by Brendan nearly getting punched at a show in Margate for covering a One Direction song. It encourages all kinds of fan behaviour, despite the fact that people often mock and patronize them for their obsession with bands - for a crowd as excitable and hysterical as this one, it was well-accepted.
Of course, 'Teenage Dirtbag' was the moment of the evening. If you want to see a room of 15,000 people go from seating to standing in 0.5 seconds, announce "Let's do the 'Teenage Dirtbag' song!" and it will happen. Whereas the crowd had been listening politely for the entirety of their set, every person there was instantly involved and singing along to every word. Brendan let the crowd sing the female part of the song (you know the bit: "I've got two tickets to Iron Maiden, baby") completely unaccompanied and applauded them furiously afterwards, shouting "that was great! I heard harmony, I heard everything!". I can imagine the response has been as enthusiastic every night of the tour, and while it's a shame that the rest of their songs are being unappreciated, getting that reaction can't be a bad thing.
Hopefully this tour will be the what Wheatus needed to relaunch their career and release some huge hits in the future.
Setlist:
A Little Respect
Fourteen
Lemonade
Leroy
Only You
Teenage Dirtbag

Busted are undoubtedly the band that I've been listening to the longest. I can remember dancing around my house when 'Year 3000' was released, tiny Alyce getting all excited and boogieing, thinking about women with three breasts... Yeah, Busted aren't the most child-friendly band, but that's why they still appeal to me as an adult.
Because of that, the wide range of audience ages at this show was astounding. You have people who must have been adults when Busted broke up, people who were just children (me!) and a large chunk of people who wouldn't have even been born, but discovered the wonders of Busted through the McBusted collaboration with McFly or were introduced to the band by their parents. Bands often have very specific target audiences, so it's impressive when a band can traverse those lines and appeal to everyone.
For them to have returned after a decade, and to be releasing new material instead of just touring the old songs? It's an impressive feat, especially when you consider how intimidating it must have been for the band to take that leap and release new music after such an extended hiatus.
The tension built quickly in the arena, reaching a fever pitch when the giant pig balloon started making its way around the ceiling above the crowd (cleverly attached to the backpack of a pig-mask wearing member of the crew). With a tour called 'Pigs Can Fly', it would have been stupid not to make the most of it with such an over-the-top prop! The arena had music playing while the band set up (if you've been to any kind of show you'll know this is the norm) but Busted's intro tape regularly burst through the music with flashing lights and jarring static; when the tape eventually started, showing people riding the bus and walking around cities wearing the pig masks, I worried that my eardrums were going to burst because the screaming reached such a high pitch.
Starting off with their new release, 'Coming Home', was a ballsy move - I hadn't heard it until the show because I was skeptical about the new songs, but it's written in a more mature and rock-centric way than their earlier material, so it stands out from the crowd. It received a good reception, though: whether that was because it was the song that the band entered the show on, or because the audience have accepted it that easily, I'll never be sure.
Of course they performed all of their greatest hits, and they were all performed brilliantly. I enjoyed them when I saw them with McFly two years ago, but there's something about hearing the songs as they were intended - with Charlie's lower voice contrasting brilliantly to the higher pitches of James Bourne and Matt Willis, grounding the songs - that is just so much sweeter. This was particularly apparent on 'You Said No', which Charlie performs lead vocal on; it felt like there was something missing last time I heard it, but it was utterly perfect this time around. All of the songs were on the same level, as well: they often weren't vocally perfect, but it's been years since any of them had been touring this constantly so they're allowed to be a little rough around the edges! There were no songs that felt unnecessary in the set, and they crammed as much as they could into the evening (eighteen songs!) without it getting boring or repetitive.
As well as 'Coming Home', they performed two other new songs: 'Easy' - performing on the second stage in the middle of the crowd, with James playing the piano - and 'One of a Kind', which they played on their return to the main stage, standing in large boxes of light reminiscent of The 1975. 'Easy' was beautiful, bordering on being a ballad, while 'One of a Kind' had a funky beat - caused by James playing the keytar - that was so modern and will obviously chart when it's released as a single.
The band were very much looking forward to the future. Matt shared the fact that they went to a studio in Philadelphia when they decided to attempt a reunion, determined to be able to release new music rather than just living in the past. The fact that they've already put three of those songs into their live set is an extremely good sign, and with James stating that they can't wait to start recording and releasing "some new [records]" (very specifically stating some), it looks like Busted could be back on the scene for a few years to come.
The chemistry between the band members is undeniable. Dancing towards each other and sharing microphones, you can tell that they really are friends again: it isn't just a polite working relationship. Charlie was beaming through the entire night, occasionally cutting himself off mid-lyric to laugh or smile at the crowd - as he was the one that broke the band up in the first place, I hadn't been expecting him to be so overtly happy to be part of the trio again, but you can tell he wishes he'd never left.
This reunion isn't a cash grab. Busted aren't going anywhere.


Setlist:
Coming Home
Air Hostess
Falling For You
Everything I Knew
You Said No
That Thing You Do
Dawson's Geek
Who's David (second stage)
Easy (second stage)
Meet You There (second stage)
One Of a Kind
Thunderbirds Are Go
Sleeping With The Light On
Why
Crashed The Wedding
What I Go To School For
-
3am
Year 3000