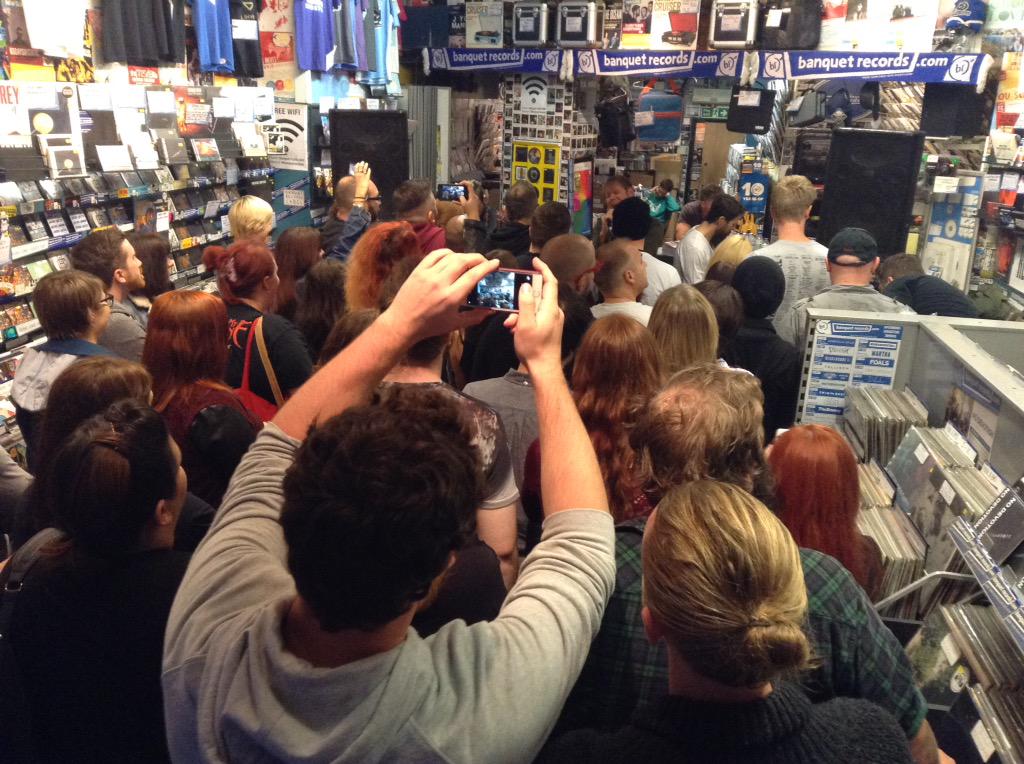 As you can tell from the picture above, the No Devotion in-store that I attended earlier this evening really lived up to the description "intimate". It was a wonderful atmosphere, to be that close to a band of such high standard, and it was an extremely special moment. No Devotion released their debut album, 'Permanence', just last week - this was the first of two performances today, to bring to a close the tour they've been doing to promote it.
The band have had a tough couple of weeks, with Geoff Rickly's record label facing financial difficulties and with the frontman getting poisoned at the start of the tour; it was surprising the band even had time to fit something like this into what was a manically hectic schedule. It was only a short set, with the guys playing three songs, but I was thoroughly impressed with all of them.
Most of the songs on 'Permanence' I heard for the first time live - as this is the fourth time I've seen the band in the past year, I've been going to their shows for a while where they've had hardly any material released. Because I knew I was going to this set, I decided to wait to listen to the album in full - I wanted to experience more of the new material in a live environment for the first time. That meant that this show was the first time I had heard 'Why Can't I Be With You?' and 'Break', and they both absolutely blew me away. It was the first time the band had ever played 'Why Can't I Be With You?' live, and it was a great way to premiere a song.
Because of the small environment, I found Jamie Oliver's synths and keyboards felt so much more effective. Sometimes I feel as though he's overshadowed by the other members, because his work is understated and subtle rather than offensively in your face. That didn't happen at this show though - because the room was so small and the band was so close, you could get much more of a feel for the nuances of the music, and the layers upon layers that go into the tracks was much more obvious. This thrilled me, because it added so much depth: you could physically feel the music, and that's something special right there.
Of course, my favourite song that they performed was 'Grand Central', but I'm totally biased because that was one of my favourite songs at their first ever show. It frames Geoff's vocal in such a brilliant light, and the power that he puts into the song is spine-tingling. It sounds like a cliche, but it's true: if you listen to that song with the headphones up loud it takes a while for it to leave you. Because the band were performing without a drummer (Philip Jenkins from Kids In Glass Houses is on tour with them but didn't play in this small show; guitarist Mike Lewis has also had to sit out this string of performances) it meant that the end of the song felt a bit strange, but it put a unique spin on it which was interesting to hear.
No Devotion are one of the only bands I can think of at the moment who are actually doing something different. There's so much of the same music being released over and over again, but I can't think of anything to compare this band to - they're in a whole other league. I've been nervous about listening to 'Permanence' because I had my expectations set so high, but I'm definitely going to play it in full tomorrow - it's not going to disappoint me, because No Devotion are not a band who disappoint, even if Geoff did admit he "spent a couple of days begging to go home because I was dying, but I wasn't dying apparently!".
If you haven't listened to No Devotion yet, change that. You will not regret it.
Setlist:
Why Can't I Be With You?
Break
Grand Central