(Top Ten Tuesday was created by
The Broke and The Bookish
!)
It's difficult to write a unique book, because nearly everything has been written before. That's why retellings have become so popular: they're socially acceptable ways of putting your own spin on a story!
It took me so long to choose five unique books that I've already read, so I've decided to also talk about five books that I want to read that sound unique. They might not be, but I have my fingers crossed.
Five unique books I've read:
5)
'This Song Is (Not) for You'
by Laura Nowlin
I didn't love 'This Song Is [Not] For You', but it's still the only example of a polygamous relationship that I've come across in YA: particularly a polygamous relationship with an asexual participant. Laura Nowlin explored aspects of teenage relationships that other people seem scared to touch upon, and I definitely appreciate that.
4)
'Firsts'
by Laurie Elizabeth Flynn
Mercedes sleeps with virgins, teaching them how to give their girlfriends the perfect first time. Sex isn't often overtly tackled in YA, but female pleasure in particular is under-represented. While I disagreed with Mercedes' scheme morally, I thought it was brilliant to see a girl own her sexuality and attempt to use it to help people.
3)
'The State of Grace'
by Rachael Lucas
I
reviewed 'The State of Grace' yesterday
, and was amazed by how unique the protagonist is: Grace has Asperger's but she's also in a relationship, which is something practically unheard of in YA prior to this novel!
2)
'You Were Here'
by Cori McCarthy
I've read a lot of books with multiple perspectives, but this book is different: one of the perspectives is written entirely in graphic novel format! It breaks up the story nicely, and allows us to see the characters that we get to know in the other chapters.
1)
'Seven Ways We Lie'
by Riley Redgate
'Seven Ways We Lie' features SEVEN different perspectives, but all of the characters contribute something to the story. The most viewpoints I'd encountered before reading this book was a maximum of four: can you name a book that has more?
Five unique books I want to read:
5)
'Magonia'
by Maria Dahvana Headley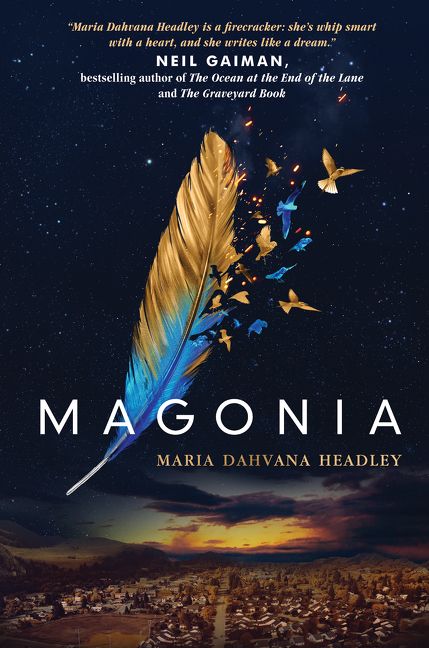 A girl is born with a rare disease that makes it hard for her to breathe. Turns out she has a feather in her lung, because she belongs to another world. It's only when she dies on Earth that she gets found by Magonia. (Also, one of the most gorgeous book covers I've ever seen, EVER. If the synopsis wasn't as compelling, I'd still be unable to resist wanting to read this).
4)
'Wonder'
by R.J. Palacio
I feel as though I'm the only person in the world who hasn't read 'Wonder'. It tells the story of a boy with a facial deformity, and though it's target audience is children it appeals to readers of any age.
3)
'Of Fire and Stars'
by Audrey Coulthurst
A princess skips out on her arranged marriage because she falls in love with her husband-to-be's sister. I can't think of a more unique fairytale!
2) 'Floored' by Sara Barnard, Holly Bourne, Eleanor Wood, Lisa Williamson, Melinda Salisbury, Non Pratt and Tanya Byrne
'Floored' isn't released
until July 2018
, but this monumental project sounds like it's going to be unique: can you name another book that has seven authors?!
1)
'The Love Interest'
by Cale Dietrich
Two male spies are supposed to seduce their mark, but they end up falling in love with each other. Can you think of a more unique take on the spy genre?!

Disclaimer: I'm an Amazon affiliate. If you agree that a book sounds unique and want to read it, consider purchasing it using my affiliate link. I'll make a small amount of money as commission. Thanks!

I hope you enjoyed this Top Ten Tuesday! Have you read any books that you'd describe as unique?