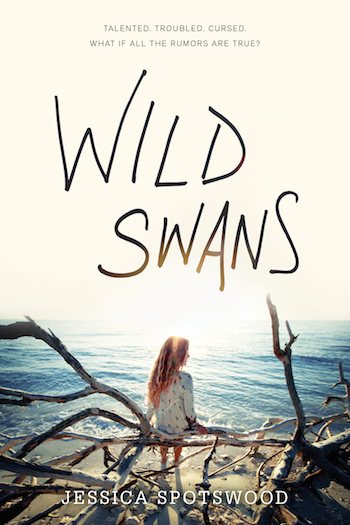 *This review will contain spoilers!*
First things first, I need to thank Sourcebooks Fire for accepting my request to view this title on NetGalley, and to NetGalley for the service that they provide.
'Here in Cecil, girls are still expected to be nice. Quiet. All sugar. Maybe a little spice.
But not us. We Milbourn women are a complicated lot.'
I loved
the first
two books
in Jessica Spotswood's Cahill Witch Chronicles, but I've been too nervous to read the third one (you guys should know by now that I struggle with finishing series!), so when I saw that there was a new Jessica Spotswood novel and it was a standalone? I was beyond excited.
Combine that with the gorgeous cover? As soon as I saw 'Wild Swans' up on NetGalley, I pressed the 'Request now' button faster than the speed of light.
Ivy Milbourn was abandoned by her mother when she was just two years old, and she's been raised by her grandfather ever since. Ivy never knew why her mother left her, but she thought it must have something to do with the Milbourn legacy: all their female ancestors have been extremely talented, but doomed. Their great-grandmother Dorothea, the popular poet who was shot dead by her lover's wife. Ivy's grandmother Grace, a renowned artist, who took her own life by walking out into the sea that had always been her subject. Understandably, Ivy's mother, Erica, must have felt a lot of pressure in her youth: pressure that Ivy is now experiencing first hand.
Ivy can't find her talent. She doesn't have an innate gift for anything. No matter how many after school classes or summer courses she participates in, nothing sticks out for her. She doesn't enjoy art, and while she likes writing poetry it isn't what she wants to do with her life. All Ivy really wants to do is swim, but that's just not what's expected of a Milbourn girl. Her grandfather pushes her extremely hard, trying to get her to do everything to the best of her abilities, but all it's really doing is putting a ridiculous amount of pressure on her.
After deciding to take a summer free from courses to just focus on her swimming, imagine Ivy's dismay when she discovers her mother is returning home. Her husband is divorcing her, and her and her two children - Ivy's sisters - have nowhere else to go. Ivy doesn't want to see her mother, and is apprehensive about becoming a sister, but her grandfather wants to give Erica a chance, so Ivy begrudgingly agrees.
As well as needing to deal with her mother arriving on the scene, Ivy is having boy troubles. Alex, their housemaid's son, has been her best friend since they were very young, but he's developed feelings for her. Ivy doesn't want to risk ruining their friendship, so she tells Alex nothing can ever happen between them: she doesn't have time for a boyfriend anyway, what with trying to find her Milbourn talent and dealing with her crazy family situation. But then Connor, one of her granddad's literature students, shows up at her house to take part in a summer project, and Alex hates the fact that Ivy's found someone she's interested in.
I really appreciated the fact that there was so much going on in this book, because it was realistic. I frequently find that when I'm reading YA the characters are dealing with one problem or another: divorce OR struggling with school, relationship issues OR an absent mother. There are not many books that show teenage characters dealing with a wide variety of problems and coping! But Ivy keeps her head on her shoulders, and she doesn't go out drinking or taking drugs - she just cares for her sisters and tries to keep them unharmed by her mother's issues.
Erica is a fascinating character. As well as having struggled with eating problems when she was younger, she's an alcoholic, but she doesn't have the strength or the inclination to stop. She thinks she's doing the best things for her daughters by pretending that Ivy is their aunt instead of their sister, but it's extremely selfish - they don't deserve to be lied to, but she doesn't want them to know about her past. She struggles with her relationship with her father - Ivy's grandfather - but can't stop herself from lashing out at him, even when it distresses her daughters and causes no end of tension.
Ivy's relationship with her mother and her sisters is layered and complex, which is exactly how it should be. There's no simple resolution, and they don't have a simple happy ever after - the ending is left open, so we'll never really know if Erica managed to get her life back on track, or if she ever successfully repaired her relationship with Ivy.
But despite the fact that a lot of the book is filled with unbearable tension, it still has its light moments, and at points I found myself giggling away. Jessica just writes such wonderful ensembles of characters, and they all contribute something meaningful and necessary to the novel: there's no throwaway characters here. There's Claire, one of Ivy's closest friends and an unashamed feminist, who constantly shouts girl power messages to defend her friends. There's also Abby, whose little brother Eli has started insisting he's a girl and asking to be called Ella: Ella is only six, and she's definitely the youngest transgender character I've encountered, but it is something that can happen at any age. Their reaction to Ella - particularly the reaction of Grace, Ivy's youngest sister - is heartwarming: Abby's father struggles to adjust to the change, but the rest of them are unquestioningly accepting.
As soon as Alex was introduced: the attractive guy best friend who lives next door, I was a little bit worried. It would have been such a cliched choice for a romance, and when Ivy insisted that nothing could happen between them I was convinced that it wouldn't take much to change her mind. I was so relieved that it didn't happen - Jessica Spotswood is not an author who takes the conventional route, which is part of the charm that makes her books so darn enjoyable.
The romance between Ivy and Connor was authentic: they make out after drinking at a barbeque, then both of them try to fight their attraction to each other but find it impossible. I loved the fact that they had such a messy start as a couple, particularly with Alex finding them kissing and flipping out! It was such an honest portrayal of the beginning of a teenage relationship. They're definitely one of my favourite bookish couples. It helps that Jessica writes kickass make out scenes - very hot stuff.
If you want to read a family-orientated, feminist YA that's very genuine to real life, look no further than 'Wild Swans'. I loved Jessica Spotswood's writing before, and I've fallen head over heels in love with it again: she just has such a wonderful way of writing, using great imagery and lyrical turns of phrase that are a dream to read.
Now, I think it's about time I finish the Cahill Witch chronicles...