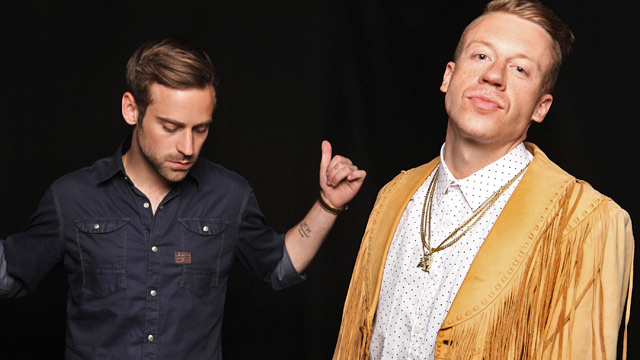 After seeing
Macklemore and Ryan Lewis
at
Reading festival two years ago
, I knew that the dream was to eventually see a headline show. The crowd had been largely unresponsive because they were a much more punk rock crowd, and I wanted to live the Macklemore and Ryan Lewis experience in a better atmosphere.
Fast forward two years, and the duo have just released 'This Unruly Mess I've Made', the follow up to their insanely popular first album 'The Heist'. Announcing their biggest European tour to date, it was finally time for me to see them at their own show, and I was insanely excited.
I missed most of the support acts (all of
XP
and most of
Raury
) due to the O2 Arena posting the wrong stage times online, which was a bit disappointing. However, I caught some of
Raury's set and wasn't overly impressed: it definitely felt like something I'd heard before, even if I hadn't experienced it in a live environment. I did find it quite funny that he was talking about his girlfriend and how he "fucked her every Wednesday evening" on a Wednesday evening... You can tell that relationship is no longer.
Considering the fact that Macklemore and Ryan Lewis had seventeen songs in their set, and I was only familiar with five of the songs prior to the evening... I definitely felt out of my league, particularly because the majority of the crowd were singing along without missing a single word. There were already fans up on shoulders by the end of the first song - that must be some kind of record.
I did enjoy first encountering the 'This Unruly Mess I've Made' songs live, though. I hadn't had time to listen to the album before coming to the show - I know, I'm an awful person - but it meant that songs like 'Light Tunnels' and 'Brad Pitt's Cousin' were even more effective than they would have been if I'd already known them.
The reason I like Macklemore and Ryan Lewis as much as I do is because they have the perfect ratio of serious songs to novelty songs. Ben Haggerty is unafraid to claim the label of activist: 'Same Love' being a campaign for equal rights for the LGBT+ community, and 'White Privilege II' calling out the white rappers in the industry who are using a black musical style without caring about the struggle against racism being fought. You can go to a Macklemore show and have a lot of meaningless fun dancing to songs like 'Thrift Shop' and 'And We Danced', but you also leave the concert really thinking.
This phenomenon was perfectly exemplified in this hour and a half set. There were very poignant moments: the introduction of 'Same Love', where Ben said "the media is really quick to use fear as a dividing tool, to divide human beings [...] fear spawns hatred, and right now, more than any other time in civilisation, we need love more than fear," and the touching #BlackLivesMatter tribute at the end of 'White Privilege II', in which their trumpet player made a short speech before performing an emotionally charged solo in tribute to the black lives that have been lost in the past years - most prominently those of Sandra Bland and Eric Garner.
But then, spliced with those inspirational sections of the evening, there were songs that left me perplexed. I was utterly confused by 'Brad Pitt's Cousin', especially by the huge screens at the back of the stage showing a repeated gif of a group of cats nodding, but it definitely kicked off an eclectic evening. Some songs did fade into the background ('The Shades', 'Arrows' and 'St. Ides' all definitely struggled to stand out - I already can't remember what any of them sounded like) but the majority of the songs shone on their own and had memorable moments. 'Buckshot' allowed Ben a brief reprieve from singing to draw a cartoon face on a huge piece of paper to give to a member of the crowd, while 'Wing$' was a particularly touching moment for the singer - as soon as the song finished, he shared "I feel so absolutely honoured to be on this stage tonight. [...] I wrote 'Wing$' when I was fresh out of rehab in my parent's basement, and the fact that this many years later I'm in London and you guys are still screaming "Mom, I touched the net"... It's not a given to have this stage, and I take it as the biggest blessing and dream I could have had as a musician."
I've never been to a hip hop headline show before - it's not my usual scene at all. I stick much more to the pop punk and rock bands. That means that while I'm an expert at knowing what to expect at a rock show, I didn't really know whether the show was standard fare or not. The duo were accompanied by brass and string sections, a piano player and their own mini dance troupe. Along with this, they had platforms elevating to give the stage multiple layers, and trapdoors in the floor to allow both Macklemore and Eric Nally (yes, Eric from Foxy Shazam - he's the other vocalist on number one hit 'Downtown') to suddenly jump out of the floor and surprise the entire crowd.
This show was a production, and it's something that really needs to be seen. Normally I know exactly how I'm going to word a review - even while the show is going on I'll start constructing sentences in my head - but this show made me completely speechless. I just had no idea what to expect, and everything was mesmerising, captivating in the sheer craziness of the evening.
My favourite of the new songs is definitely a toss up. The first song that I really fell in love with was 'Let's Eat' (with the catchy and repetitive refrain "You know I feel good about this steak/shake/plates/crepes/cake" - delete as applicable) which Macklemore introduced by listing reasons he was going to stay in London ("I love the history of London. Number 2: The women. 'Nuff said. [...] Number 3: You guys drink a bunch of tea and eat biscuits, and I love both those things! In America, people are like "We don't have time for biscuits!". Number 4: and the very, very last thing, the most important out of all of them, is the fish 'n' chips."). It was a very funny way to introduce the song, and by finishing it with a world record attempt - trying to throw a cookie from the stage to someone on someone else's shoulders - it was one of the best moments of the evening. Unfortunately, no world records were broken, but he said he "wouldn't be mad" if everyone hopped on social media and announced that Macklemore had just broken a world record, so don't believe everything you hear!
The other song I was impressed by was 'And We Danced', which was indescribably confusing. To segue into the first encore (this being a Macklemore show, there were two - the second being after Ben personally named and thanked all of the performers who had been involved with the show, as well as their lighting guys and all of the stage crew underneath making sure that the platforms functioned correctly) there was a video clip played on the screen showing Macklemore wearing a crazy 80s glam rock style wig and wearing a lot of lycra - when he came out on stage in that ensemble, complete with luxurious purple cape, it was hilarious and utterly baffling. Screaming out the words "And we danced, and we cried, and we laughed, and had a really really really good time" I was struck once more by how profound all of Macklemore's lyrics are: he really has a skill for writing songs that are so relatable it's almost impossible not to shed a tear. Keeping in with the dancing theme, the second song in the first encore was 'Dance Off', which wasn't as good as a song - it's a bit too repetitive for me - but by inviting members of the audience up on stage to compete against each other, it introduced an interactive element to the evening.
The thing I loved most about this show was their dedication to their fans and their family. As I mentioned earlier, he thanked every one of the performers by name: that's certainly a big touring family, but the appreciation and respect he showed for each individual artist was commendable.
The most heart-warming moments of the set were definitely the ones where Ben was telling the crowd stories about his daughter, Sloane, who is almost a year old. He performed 'Growing Up' - the song that he released to announce Sloane's birth - and altered the lyrics: rather than singing "I'm gonna be there for your first breath/I don't know if I'll be there for your first step" he changed it to "This week I was there for your first steps" and shared the triumphant fact that Sloane had taken her first steps days earlier, backstage on the tour. You can understand why Ben's wife, Trisha, was happy to travel around Europe as a family!
The most brilliant story was him sharing that earlier that day he'd decided to explore London with Sloane ("me and my baby girl around London, good ass dad!") where he was recognised by a man on the street who knew he was playing the arena that night. The guy called him over and told him "You gotta be careful because there's a lot of seats [...] there's no sitting down in hip hop shows, is there?". This got a lot of laughs from the crowd, but I can guarantee you that no one stayed sat down past that moment. Apparently the man got tickets to the show, so I hope he practiced what he preached!
At the end of the show, Ben said "I can't think of a better place to end the tour than right here", and I can't think of a better place to end this review than with this sentiment: this was a very unique show, and while it wasn't a perfect setlist and it definitely had its lulls, this is still one of the best performances I've seen in my life, just because of the sheer energy and the production. If you go to concerts and you don't get out of your comfort zone much, do it - you'll end up enjoying yourself a lot more, I bet.
Setlist:
Light Tunnels
Brad Pitt's Cousin (ft. XP)
Buckshot
Thrift Shop
The Shades
Arrows
Wing$
Same Love
Growing Up
White Privilege II
St. Ides
Let's Eat (ft. XP)
White Walls
Can't Hold Us
-
And We Danced
Dance Off
-
Downtown (ft. Eric Nally)