(Top Ten Tuesday was created by
The Broke and The Bookish
!)
When you're a teenager and you're confused or conflicted with your sexuality, sometimes books are the best places to turn. You can experience someone else's story and it makes yours a little bit less terrifying - it allows you to escape.
If you're an LGBT+ teen, these ten books might help you do that, and they might help you to love who you are that little bit more too.
10) 'A Kiss in the Dark' by Cat Clarke
I'm still
a bit conflicted
by 'A Kiss in the Dark', because Alex lies to Kate and pretends to be a guy, but then Kate lies and claims that Alex assaulted her because she doesn't want the world to know she had fallen in love with a girl masquerading as a guy. It is a good lesson in following your heart, though, and Cat Clarke's writing is always beautiful.
9) 'This Song Is (Not) For You' by Laura Nowlin
I wasn't too impressed by 'This Song Is (Not) For You' when I
read it at the beginning of the year
, but it's still one of the only YA books I've read that have featured asexuality, so it's certainly worth checking out if you're of that orientation.
8) 'Golden Boy' by Abigail Tarttelin
I haven't finished 'Golden Boy' yet, but I'm about halfway through it and I'm really enjoying it so far, even though it is a harrowing and extremely difficult book to read. It's the only book I've ever encountered that has featured intersexuality, so it's unique. It's classified as adult fiction, but I think a mature YA reader could enjoy this one too - it has multiple perspectives, including a nine year old, two sixteen year olds and the intersex character's parents.
7) 'Taking The Stand' by Juliann Rich
When I read 'Taking the Stand', I didn't actually realise that it was the third book in a trilogy. I read it and
I really enjoyed it
- despite the fact that I had no background of the characters - so I can definitely recommend this one: I'd suggest starting with the first book, 'Caught in the Crossfire', even though I can't tell you what it's like!
6) 'Seven Ways We Lie' by Riley Redgate
'Seven Ways We Lie' features asexuality and has a gay character in a religious community, so they're both stories that need to be told.
5) 'Far From You' by Tess Sharpe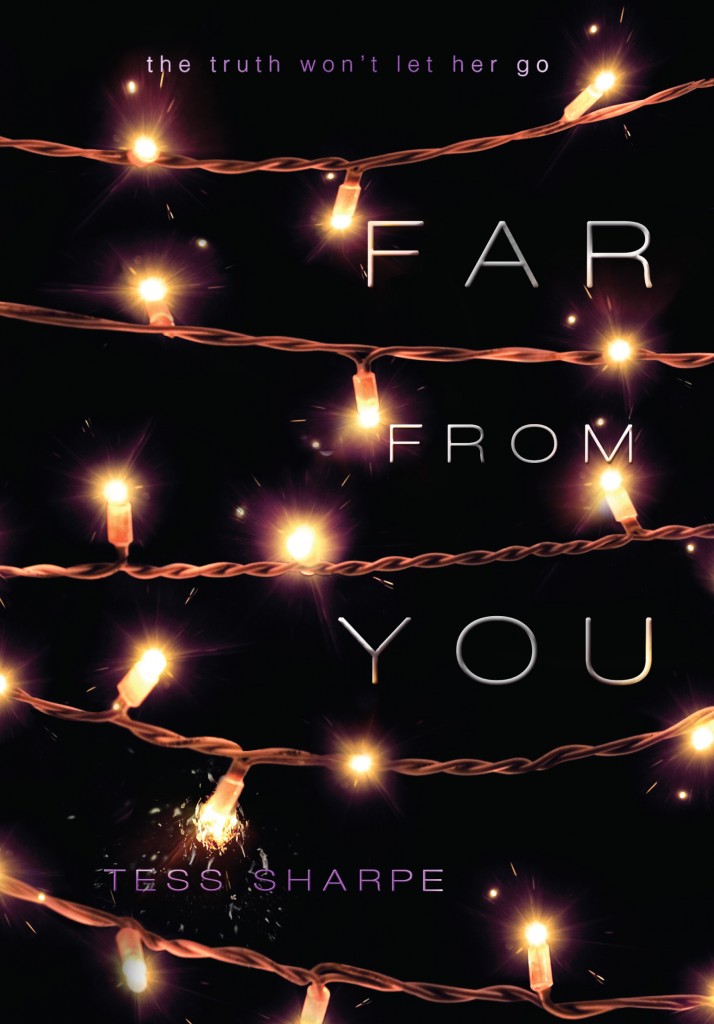 I still can't recommend 'Far From You' highly enough - it's quickly become
one of my favourite books
. However, the couple in the novel are lesbians, and this does mean it features the "kill your gays" trope - the fact that the death happens at the start of the novel to set up the enigma doesn't make it any less heart-wrenching.
4) 'How Many Letters Are In Goodbye?' by Yvonne Cassidy
Featuring a lesbian protagonist who has only one arm and is an orphan, Rhea is one of the most diverse characters I've ever encountered. It's a beautiful story written in an epistolary style, so if you like reading letters you will
love this book
.
3) 'The Art of Being Normal' by Lisa Williamson
One of the most successful YA books written about transgender characters, 'The Art of Being Normal' recently won a Waterstones book prize - it's that good.
I absolutely loved it
when I read it, and I already want to read it again: David and Leo feel more like friends than book characters.
2) 'Carol' by Patricia Highsmith
No, 'Carol' is not YA, but I genuinely believe it's a book that teenagers should be reading. Whereas modern TV shows are still killing off lesbian characters left, right and center, Patricia Highsmith was ahead of her time back in the 50s, when she actually allowed both Carol and Therese to survive and have the potential for a happy future.
1) 'Simon vs. the Homo Sapiens Agenda' by Becky Albertalli
I'm totally biased towards Simon, because
when I read it
I had never related to anything more strongly. I was developing feelings towards a girl (she's now my girlfriend, happy ending!) but reading 'Simon...' made me feel more comfortable in myself, and his dry sense of humour and witty personality made it impossible not to laugh, even though the situation he's in is very unfunny at times. Becky Albertalli's writing is a dream, and I just cannot wait for her to release a second novel.
I hope you enjoyed this Top Ten Tuesday. Are you part of the LGBT+ community, and if so what books do you recommend?