A picture of my current - well-loved - comics page in my bullet journal.
In 2017, I'm buying less comics.
There are many reasons for this. I often don't have enough time to read the ones that I do purchase, and my unread pile is growing out of control.
I also don't have enough money to maintain the volume of purchases that I've been pulling: I got far too excited when DC Rebirth launched, jumping on board with more titles than any one person strictly needs.
But the main reason is that I want the comics I read to have diverse teams behind them.
Just this morning, Stacked Deck Press released a call for transgender comic book artists.
After reading a post regarding the cancellation of 'The Legend of Wonder Woman' over
on Book Riot
, I was shocked by the sexism still running rampant in the comic industry.
It seemed like there had been huge leaps towards equality this year: Wonder Woman
stole the show
in 'Batman vs. Superman' back in March; Margot Robbie's portrayal of Harley Quinn in 'Suicide Squad' was so popular that the 'Gotham City Sirens' project was announced
earlier this month
, finally bringing Poison Ivy and Catwoman back to the cinema screens... But sexism in the industry is still alive and well.
Titles that seem to have been aimed specifically at female comic book readers have male teams behind them (one of the reasons I haven't yet read the 'Spider-Woman' run
by Dennis Hopeless
, featuring a heavily pregnant Jessica Drew. Who thought a man could write a pregnancy story better than a woman who'd experienced it?).
Pregnant Jessica Drew: written, and drawn, by men.
I read most of my graphic novels through the library, and because I'd like to continue supporting the service I'm not going to be as strict when it comes to grabbing all the new releases off of the shelves in there. But when it comes to purchasing, I'm going to be much tougher before I add new titles to my list.
The first comic I decided to drop was 'Supergirl'. When the new DC Rebirth run was launched, I snapped it up. I loved the art on the cover of the first issue, and I couldn't wait to read it. But with so many female comic book writers and artists, why does the team need to be completely male?
Then there's the new run of 'Jessica Jones'. I loved the Alias series and was so excited to see the team back together, but after the first issue that excitement waned. I read Alias when it came in to the library: I think I can probably wait for the graphic novel of the new run to be released, too. There's something missing, and I think it's the lack of female input.
I'm also going to weed out 'Venom'. I'd read a few of his cameos in graphic novels over the last year, but as a solo character I just can't gel with him as well as I'd thought I would be able to. Oh, and 'A Year of Marvels'. I have no idea what an "Infinite Comic" means, but it's too damn hard to keep track of the release dates.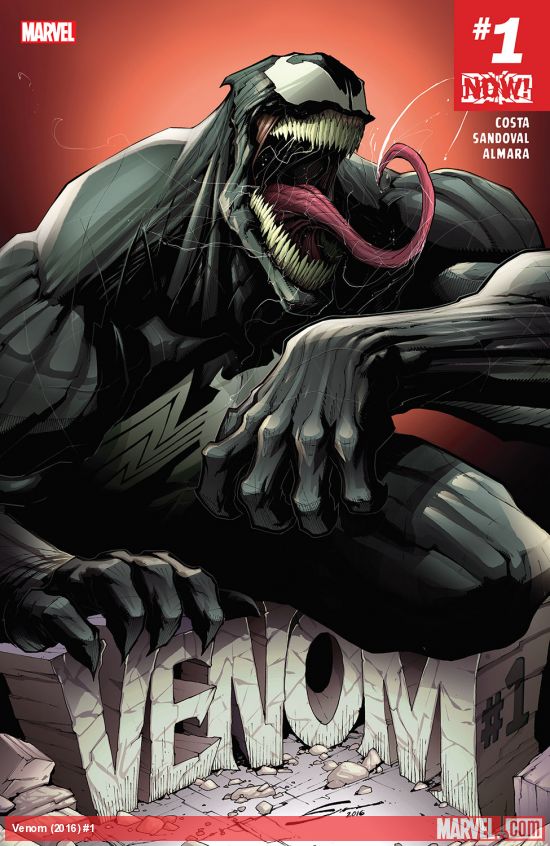 Looking ahead, I've decided not to pick up America Chavez's solo title - simply called 'America' - when it's released next year. Yes, it's great to see Latina representation in comics, and I was beyond excited when I first heard the news. But the two members of the creative team
currently announced
are white males, it's a shame that it's not an #OwnVoices title. If there aren't enough Latina people involved in the comic industry, this could have been a way to encourage more people to get involved.
The first cover for upcoming series 'America': a diverse character with an unrepresentative team.
Overall, I was pretty happy with my list. I feel as though having experience with a subject makes you more qualified to write it, because you can offer insight and reflection that people outside of your position can't. That's why I prefer female characters written by women (or, at least, with women on their creative teams). They're less of a caricature, more well-rounded, more realistic. That's why I've been enjoying 'Bombshells' and the DC Rebirth runs of 'Harley Quinn' and 'Batgirl' (and 'Batgirl and the Birds of Prey') so much; the characters really do come alive on the page.
I'd like to take a second to recommend 'The Unbeatable Squirrel Girl' which, although I haven't been purchasing the single issues, is one of my favourite comic series at the moment. The creative team of Ryan North and Erica Henderson works wonderfully, and it's brilliant to see a superhero with a different body shape!
Out of the comics I read in single issues, 'Black Panther' and 'Black Panther: World of Wakanda' have the most diverse creative teams, and they're heads above the rest when it comes to enjoyment. Whoever decided to get Roxane Gay on board, I applaud you.
I'm happy that I've decided to weed my pull list, and I want to thank Charles Paul Hoffman at Book Riot for bringing my attention to such an important issue.
I'm only one person, and my purchases won't have any impact on the comic book industry, but I implore you: read more diverse comics, and don't assume that you're reading diversely based off of the gender or the colour of the character on the cover. Don't keep reading the same boring old white male superheroes year in, year out (I'm looking at you, Captain America and Iron Man!) because comics are much more interesting when you read widely, and read diversely.
Do you have any diverse comic recommendations for me? If so, leave them in the comments below! I might be able to afford one more series. Or maybe two...