(Top Ten Tuesday was created by
The Broke and The Bookish
!)
The start of a new year always comes with a lot of terrible things: a false promise to give up chocolate, awkward dinner conversations with your distant relatives, the ceremonial dismantling of the Christmas tree that's been brightening up your living room for the best part of a month.
But the arrival of a new year also brings lots for you to get excited about.
Soon enough it'll be time for summer again - a season that's brilliant for reading outside without risking your books getting rained on and getting awkward tan lines from where you've been resting your tomes. The reading challenges that you failed so remarkably this year (sorry, series challenge!) will be tackled again with vigour and - of course - there'll be so many books released in the next calendar year that your TBR will explode once and for all.
These ten books are all coming out in the first six months of 2017, and I'm equally excited for all of them. If you want more information about the books, click on their titles: I'm linking in all of their Goodreads pages for your perusal.
10) '
Carve The Mark
' by Veronica Roth - January 17th
This was my MOST anticipated release of 2017 until a couple of weeks ago, but since then there has been a lot of uproar surrounding the book and claims that it's filled with racism. I still want to read it for myself to make my own mind up - particularly because I'm so excited to see how Veronica's writing has changed in the years since 'Allegiant' wrapped up the Divergent trilogy - but I'm a little worried about this one now.
9) '
Always and Forever, Lara Jean
' by Jenny Han - April 4th
I haven't yet read the second book in the To All The Boys I've Loved Before series, because I didn't want Lara Jean's story to be over. Now that there's a third installment I'll be able to read the second one, but when I'll get around to this one I have no idea!
8) '
Strange The Dreamer
' by Laini Taylor - March 28th
'Strange The Dreamer' should have been released by now, but its release date was pushed back until March. I was involved in the cover reveal for this title, so I've had my eye on it for nearly a year now: I'm looking forward to finally having it in my grubby hands, because I've always intended to read more of Laini Taylor's writing (having only read her short story collection so far).
7) '
The Upside of Unrequited
' by Becky Albertalli - April 11th
I LOVED 'Simon vs. the Homo Sapiens Agenda' so much, and I'm beyond excited to finally be able to read another book by Becky Albertalli - I've already been waiting for a year and a half! It's being released days before my birthday, so I'm hoping I'll be able to get it as a present (even if it's just a present to myself!).
6) '
We Come Apart
' by Sarah Crossan and Brian Conaghan - February 9th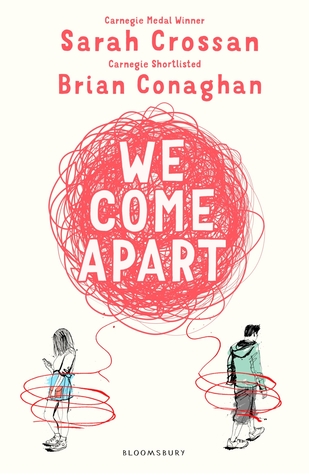 Entangling the two separate stories of Nicu, an immigrant, and Jess, who's trying to escape from home, 'We Come Apart' sounds like it's going to be beautiful and heartbreaking all in one.
After reading 'One' I fell in love with Sarah Crossan's writing, and I'm looking forward to reading more of it (and finally experiencing the work of Costa Children's Book Award 2016 shortlisted author Brian Conaghan).
5) '
Windfall
' by Jennifer E. Smith - May 2nd
Alice buys her best friend Teddy a lottery ticket - and he winds the jackpot. Alice has to come to terms with the way the money changes their relationship, and if this book is as wonderful as all of the other Jennifer E. Smith releases I've read, I'm going to love it.
4) '
Our Own Private Universe
' by Robin Talley - January 31st
Bisexual representation. Need I say any more?
3) '
The Hate U Give
' by Angie Thomas - February 28th
If you haven't heard about 'The Hate U Give' yet, I'll be surprised. It's one of the most talked about 2017 releases, and it should be on every YA readers radar. Starr witnesses a police officer shoot her unarmed best friend dead, and it causes a rift between her two lives: her life at school with white friends and a white boyfriend, and her life at home with her black family, friends and neighbours.
If you're a supporter of the #BlackLivesMatter movement, you should definitely keep an eye out for this one.
2) '
The Love Interest
' by Cale Dietrich - May 16th
I only discovered 'The Love Interest' a couple of weeks ago, but it's quickly established itself as one of my most anticipated 2017 releases. There's an agency that cultivates Love Interests - spies who are extremely successful because they're good at getting close to people and infiltrating their mark. The twist? Two male Love Interests fall for each other, not the girl that they're assigned to woo.
1) '
A Quiet Kind of Thunder
' by Sara Barnard - January 12th
In case you haven't guessed by me rambling about it periodically over the last twelve months, 'Beautiful Broken Things' was one of my favourite 2016 releases. I have an advanced copy of 'A Quiet Kind of Thunder' that I've been holding off reading - I didn't want to devour it too early, because then I'll have SO LONG to wait until Sara's next book is released - but I'm convinced that this is going to be just as good as her debut.
I hope you enjoyed this Top Ten Tuesday! Are you as excited about these books as I am, or are there others that have caught your eye?