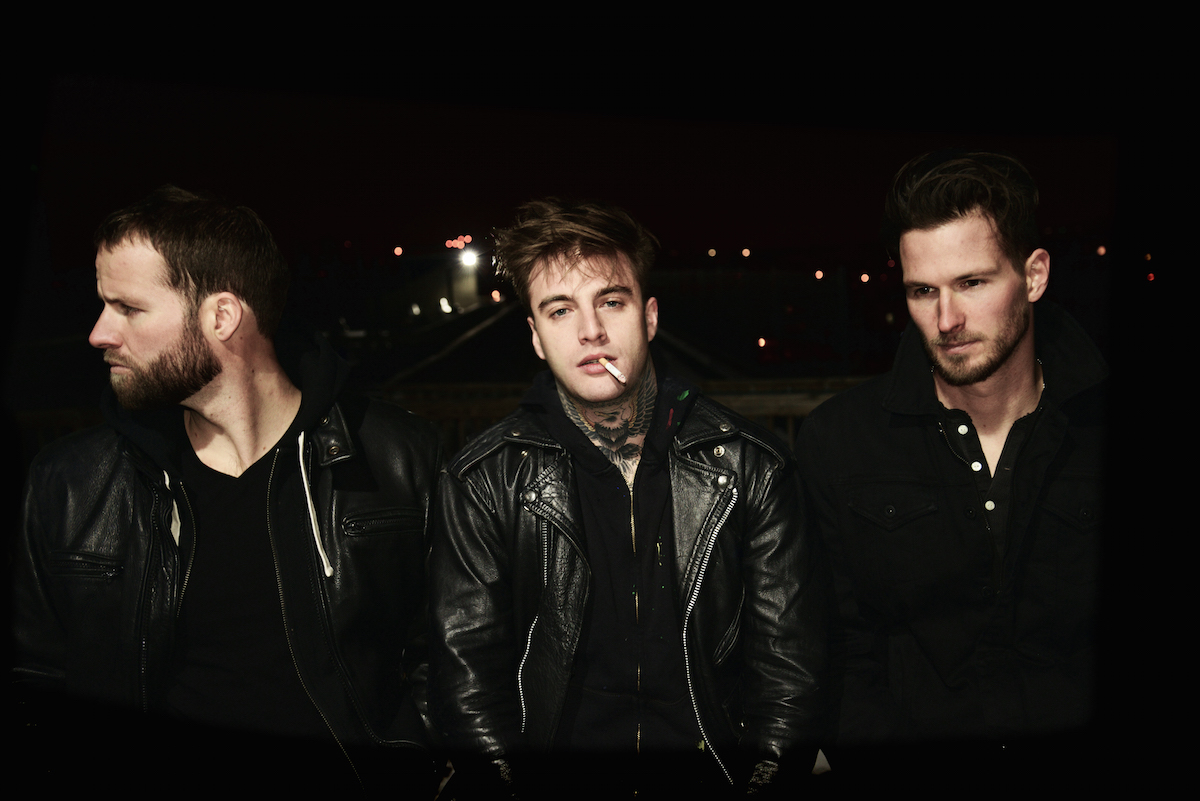 Vukovi converted me during their set.
I listened to 'Animal' before Download festival and was wholly unimpressed, so I crossed them off of my list without a second thought. I was interested when they announced their self-titled debut album was scheduled for release in March, but when they were added as sole support for this show I was disappointed. I assumed they were going to struggle to get a reaction from the crowd: the show sold out mere hours after it was announced back in September, while Vukovi were added to the line-up at the start of November. It was unlikely that anyone was going to be attending the show purely for the Scottish four piece, and I thought they might fall flat when confronted with such a rock 'n' roll crowd.
When their stage time came around the room was already filled almost to capacity, the crowd eagerly waiting for someone to take the stage. Whoops and hollers echoed around the venue, and the band came out to a smattering of applause, the Friday night crowd anticipating the start of the music.
Vocalist Janine Shilstone took command, her high and breathy vocal giving their sound a unique twist that makes it impossible to draw comparisons between them and any other bands around at the moment. She's unafraid to be the focal point of their set, regularly taking phones out of the hands of fans at the front of the crowd to film herself singing directly into them, a huge contrast with most vocalists who want people to put their phones away instead. She's also hilarious, taking the time to apologise for her thick Glaswegian accent before squealing with excitement someone shouted out, exclaiming "You can? One person!" with glee.
The songs at the start of their set had a heavier sound, with bassist Jason Trotter adding screaming backing vocals which - although well performed - felt misplaced, causing an uncomfortable contrast between his voice and Janine's. But by the end of the set the dance aspects that weaved subtly through the first couple of songs took center stage, powerful riffs, "hey!" and "woah-oh-oh" chants, and funky breakdowns bringing their set to a remarkably successful close.
The majority of the songs they played are going to be on the aforementioned debut album, and Janine shared that they were "quite nervous, because a lot of the songs in our set and ones we've never performed live before," before thanking the crowd for "being so welcoming!" to them.
I wouldn't be surprised if Vukovi make quite a few festival appearances throughout 2017, but I won't make the mistake of missing their set again.
Setlist:
La Di Da
Animal
-
Prey
Bouncy Castle
Boy George

If you were at the show and know which song came third in Vukovi's set, please let me know!

When I went to this show, less than a week had passed since
Highly Suspect
released their new album 'The Boy Who Died Wolf', and I was excited to see how the new songs worked in a live environment.
The album is stunning, a tour de force that ranges from piano ballads ('Chicago') to sprawling anthems that wouldn't sound out of place performed at an arena or stadium-sized headline show (both 'Serotonia' and closing track 'Wolf'). There isn't a weak moment during any of the 11 songs, but at times the album does rely heavily on the production - just listen to 'My Name Is Human' or 'Viper Strike', which both feel swamped in effects: one polished to perfection, the other distorted to add to the grunge vibe it emanates.
This made me feel a little apprehensive about seeing the band again. For one thing, The Dome is a drastically different environment to
Reading festival
, where I discovered - and rapidly fell in love with - the band. I didn't doubt that they would sound amazing wherever they played, but headline sets and festival sets are not similar at all and it's always interesting to see how bands cope when they're the main attraction of the evening. That, combined with not knowing quite how the new material was going to work, meant I went into this show filled with nerves.
They dissipated the moment the opening riff to 'Bath Salts' rang out. The band took to the stage ten minutes after their allocated stage time, a delay which succeeded in further pumping up a crowd who were already buzzing with excitement, but with their set finishing ten minutes after curfew it didn't mean they put on less of a show.
These three are pure rock 'n' roll. Starting 'Bloodfeather' by yelling "When I start jumping up and down, I want every motherfucker in this room to start jumping with me!" vocalist Johnny Stevens knew that he had every single member of the sold out crowd eating out of the palm of his hand, and he took advantage of them, milking every moment of their time on stage. The first break came at the start of 'My Name Is Human', which Johnny introduced by announcing that it was
currently #1
in America (on Billboard's Mainstream Rock Songs chart), before he stopped playing and shared "I gotta tune this. Just got off a plane with it, you know what I'm saying? This is for your benefit."
He used this fake out way of teasing their most popular songs a couple of times during the show: after playing the opening riff to 'Serotonia' he paused to thank Vukovi and DJ Rigby (the DJ who played between the two sets, on his "first international gig") and then joked that it was time to get "back to your regularly scheduled programming", then in the middle of 'Lydia' the band stopped the song to have a brief break, chugging from a bottle of tequila that Johnny passed back and forth between him and drummer Ryan Meyer.
How do the new songs sound live? There's only one word to describe them: perfect. 'My Name Is Human' sounds like a more natural rock song, focusing on the riffs and shining a spotlight on bassist and backing vocalist Rich Meyer, proving that it doesn't need the vocal distortion to be atmospheric. 'Little One' felt more tender and poignant, particularly after Johnny introduced the song by saying that he was "so fucking fortunate, because the girl that it was written about is sitting right back there", but still allowed for a humorous moment when he vocally substituted the chimes that sound in the middle of the song.
Meanwhile 'Viper Strike' still has the bitter sarcasm that makes it the most vengeful song on the album, but without the distorted effect on Johnny's vocal you can easily understand every single lyric. That makes lines like "I see you're clutching that cross pretty hard, though/A lot of those motherfuckers are gay/Like in a 'hide your kids' kind of way" so much more effective. And with Johnny introducing it by saying "Sorry about our president..." it's a much more politically charged song than most Grammy-nominated, chart-topping acts would risk to release.
Highly Suspect are big on equality and acceptance. If that wasn't obvious by them directly tackling racism and homophobic in 'Viper Strike', it's unavoidable when Johnny tells the crowd "Look around each other. This is a family here. This is what MCID is all about. You guys are a network now.". It was visible at the show: the room was filled with people of all races, ages and sizes who were all dancing, chanting and yelling the words to every song. You don't often see people having this level of unrestrained, unselfconscious fun, and Rich even commented on that fact, announcing "I've never seen so many happy faces in my life!".
Some people have written this band off, unimpressed by the way that their ever-so-slightly commercialised rock is making its way into mainstream charts, but you'd be stupid to dismiss these three. They're happy to explore their sound, exemplified perfectly during 'Round and Round' - the only song to feature Rich on lead vocal (which Johnny introduced by saying "Rich has the voice of a goddamned angel [...] like an angel who gets in a nice black tutu and performs a ballet in hell") and one of the most effective moments of their set - and the stripped-back introduction to 'Vanity' which made the song practically unrecognisable.
Then there are the rock 'n' roll antics that they get up to on stage. They're not trying to stay in anyone's good books, and they're definitely not playing by the same rule book as most other bands, either. Chugging tequila at multiple points throughout the set might seem hardcore, but when you consider the fact that Ryan Meyer played a ten minute drum solo during 'ATL' (the live performance only outro to 'Claudeland') and didn't miss a beat, and following his solo Johnny sauntered back out on the stage, lit cigarette dangling from his lips as he finished the show by breaking the law in a rebellious fashion... That's a real rock band. You can't call Highly Suspect posers, because no one would describe this show as forgettable.
We were very lucky it even went ahead. Johnny admitted that he "missed [his] first flight", groaning "it took me thirty fucking hours to get from New York to London!", and I'm beyond grateful that he managed to make it to the country, because this show has easily become the best I've seen this year (and having been to over 50 shows, that's no small feat).
I'd already bought tickets to their headline show at Koko in March, and if you don't have tickets yet
you need to change that
. It's not going to take long for that show to sell out, and I think it's going to be one of the last times that you'll be able to see these three in a venue that small.
2017 is going to be Highly Suspect's year. Don't be surprised if they change their Grammy nominated status to Grammy winners.
Setlist:
Bath Salts
Lost
Bloodfeather
My Name Is Human
Vanity
Round and Round
Fuck Me Up
Viper Strike
Serotonia
Mom
Lydia
Little One
Wolf
-
Claudeland/ATL (including drum solo)