(Top Ten Tuesday was created by
The Broke and The Bookish
!)
Welcome to another Top Ten Tuesday! I was trying to decide on books to read if you liked a specific author, or a specific series... But I just couldn't think of any that would work. So I thought - hm, TV! This Top Ten Tuesday will help you find books to read if you enjoy Supernatural, the spooky, ghost-hunting, paranormal extravaganza.
10) 'You're Never Weird On The Internet (Almost)' by Felicia Day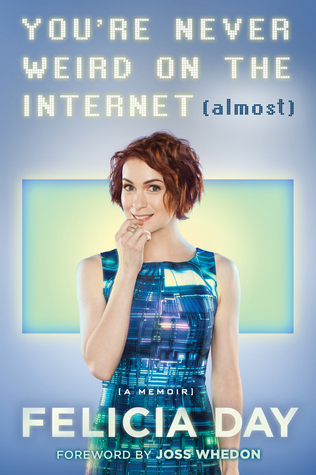 I don't know why, but I have a feeling Felicia Day's memoir would appeal to our trusty heroes...
9) 'Shiver' by Maggie Stiefvater
A child gets attacked by a wolf in the woods - that can't be a one off incident. Yes, 'Shiver' and the following two books are a little bit too romance-y, but I can imagine Sam and Dean bursting in and making everything much more awkward.
8) 'Working Stiff' by Rachel Caine
A medication gets created that stops the dead from dying - the ensemble cast of characters have a bloody tricky time getting everything sorted out, so I think they'd need to contact the Winchesters to make everything a little bit easier.
7) 'The Darkest Part Of The Forest' by Holly Black
Strangely attractive horned man is asleep in a glass coffin, and has been undisturbed for years. Perfect for an episode of Supernatural in which the boys go sight-seeing and accidentally disturb a magical entity.
6) 'The Girl At Midnight' by Melissa Grey
The secret underground societies of the Drakharin and Avicen - dragon and bird people respectively - would definitely draw the attention of the Supernatural squad.
5) 'Burn For Burn' by Jenny Han and Siobhan Vivian
Ghostly happenings on a mysterious island - the spirit is rather malevolent... Yeah, Sam and Dean would be called in for this one.
4) 'The Walls Around Us' by Nova Ren Suma
'The Walls Around Us' includes a haunted prison, and the suspicious deaths of multiple teenage girls at a high school ballet performance. If that doesn't shout Supernatural at you, I don't know what will.
3) 'Ignite' by Erica Crouch
Fallen angels? Check. Humanity in mortal peril? Check. Sam and Dean would be right in the middle of this one.
2) 'The Archived' by Victoria Schwab
'The Archived' is based on the idea that when people die, they are kept in a library and their histories can be revisited. They manage to keep the situation under control quite well, but sometimes the Histories get violent and attempt to escape. If it got really, really bad, I can imagine the brothers would definitely investigate this one.
1) 'Silverwood' by Betsy Streeter
When I read 'Silverwood', I couldn't get it out of my head that the main character was in a very similar situation to Sam and Dean - her father is absent, and then terrifying things start taking over her life and she ends up monster hunting. Perfect for a Supernatural fan.