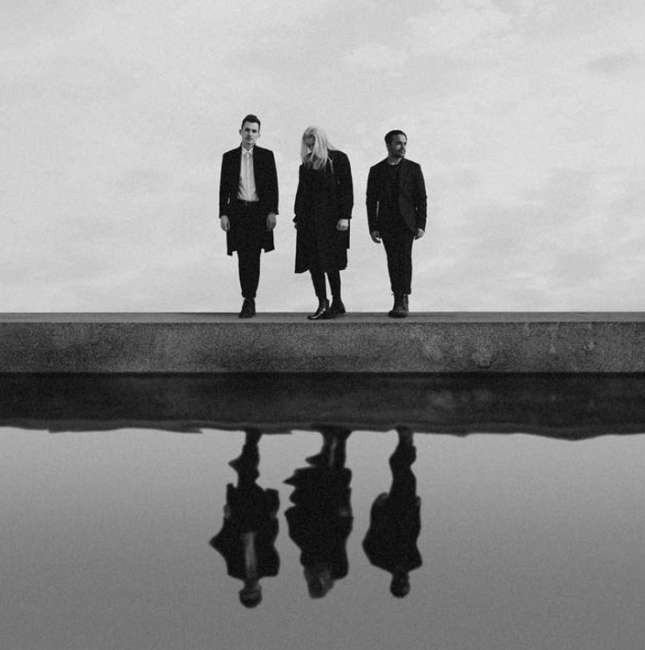 Originally Fickle Friends were the support for this show, but Scottish duo
Prides
took their place after they pulled out.
The last time I saw Prides they were playing a triumphant set
at Reading festival
. Since then, they've started work on their second full-length album and have parted ways with drummer Lewis Gardiner. Their synth-filled, upbeat indie-pop doesn't make them the most obvious choice to support a band like PVRIS, but they certainly warmed the crowd up. Playing two brand new tracks - 'Say' and 'Are You Ready?' - taken from their upcoming second album, the band showed that they're heading in a more understated direction while still keeping their unique style alive, and they're aiming to be playing bigger venues. The "oh oh oh" singalong at the end of 'Are You Ready?' is evidence of that: it's built for arenas.
Vocalist Stewart Brock seemed pleased with the crowd response, grinning from ear to ear when fans scattered throughout the crowd started singing along to 'Rome' and 'Higher Love'. Not many people in the venue were familiar with them before the show - some still expecting to see Fickle Friends and encountering disappointment - but there was love for them in the room before their set, and they definitely converted more members of the audience into fans by the end.
Closer 'Messiah' was an explosive end to the set, the repetitive "So say it, say it, say you'll be my Messiah" getting everyone in the room chanting along as Stewart jumped across the stage in a frenzy, encouraging people to raise their voices and shout the line back at him. He's certainly a charismatic frontman, and that, combined with the fact that they're releasing songs that are impossible to compare to anyone else, makes Prides impossible to ignore.
Setlist:
Away With The Night
Rome
Higher Love
Out of the Blue
Say
The Way Back Up
Just Say It
Are You Ready?
Messiah
Over the past couple of weeks,
PVRIS
have been teasing fans with the knowledge that news of their second album was coming soon. After posting an
intense promo clip
, new single 'Heaven' was released on Daniel P. Carter's Radio 1 Rock Show on Sunday - a mere four days before this show - ushering in the 'All We Know of Heaven, All We Need of Hell' era with a bang.
This was my second time seeing the band
play a headline show
, and it was absolutely faultless. I don't say that lightly - there literally isn't a bad thing I can say about this show.
From the moment the house lights dropped, the atmosphere was electric. An intense intro tape echoed throughout the venue, almost inaudible beneath the bloodcurdling screams of anticipation emanating from everyone in attendance. Taking the show to the next level, the band had four Victorian-style street lamps standing at the back of the stage, which began to flash furiously from behind a thick cloud of smoke as the band walked out and dived straight into 'You and I'.
It was impossible to find a person in the venue who wasn't singing along to every word of every song (except for brand new, previously unheard track 'Half', which I'll get to in a moment!). The roaring voices equalled the volume of vocalist Lynn Gunn, almost overshadowing her during the explosive choruses of both 'You and I' and 'Fire'.
Considering this is their first time back in the UK since they
supported Bring Me The Horizon
at the Royal Albert Hall, fans have been waiting for a while to get their chance to see the band again. More than that, it seems the band have been excited to return to our stages: all of the members - Lynn, guitarist/keyboardist Alex Babinski, bassist/keyboardist Brian MacDonald, even touring drummer Justin Nace - looked happier to be on stage than I've ever seen them before, beaming at multiple moments throughout the night at the impassioned crowd response. The time away has reinvigorated them, and while it seemed possible that they could burn out (not many bands experience such a vast amount of success from just a debut album!) their second album has brought them back to life - even if
the video for 'Heaven'
does show their deaths.
I can't express my love for their new material in words. It proves that Lynn's vocal isn't the only talent she has: she demonstrates her piano playing skills during 'Heaven', and closed the debut of 'Half' with an epic, musically intense session of drumming alongside Justin. She's always been a great frontwoman, but she's developed into a more confident performer: she's at ease while communicating the crowd, and has no hesitation when swapping her guitar for the other instruments. It's not often that you find a vocalist who's also a multi-instrumentalist, and it'll be exciting to discover whether she has any more tricks up her sleeve in the eight currently unheard tracks that will comprise the rest of the album.
Despite the fact that 'Heaven' was released less than a week ago, it's obvious that it's already become a fan favourite. From the first note the crowd were singing along to every word, having listened to the track so many times at home that it was already burned into their memories. It's impossible not to play it on repeat: the video is compelling in a cinematographic way, but the song is so catchy that you can't get it out of your head once you've listened to it and you can't stop yourself clicking replay over and over again. It worked perfectly as the first song in the two song encore: preceded by an ominous recording of a heartbeat and garbled, static voices, it points towards their upcoming (yet to be announced) fall tour having a far creepier aesthetic than the 'White Noise' era. They're not afraid to admit that the UK is one of their favourite places, Lynn even going so far to say that "London is [her] favourite city", so it was only right that they played their new material for the first time in the place that they love the most.
I was mildly surprised that there wasn't a more overtly political theme to the evening, as the band have been
openly political
on social media
in the past few months. There was a brief moment after a fan threw a bra on the stage, to which Lynn joked "Set those puppies free! Free the nipple!", but there wasn't time for much more of a discussion: the set was stuffed with material, because as well as the two new songs the band almost performed 'White Noise' in full (merely omitting 'Let Them In'), playing alternative, stripped back version of 'Ghosts' and 'White Noise' with just Lynn and Alex on the stage. It'll be interesting to see whether the band spark more debate on stage at shows in the future, but that's the only thing that's missing.
A lot has changed, that much is obvious, but the band still have 'Hooked on a Feeling' by Blue Suede as their outro tape when they leave the stage at the end of the night. It's a nice throwback for people who've seen the band before, and shows that they're still the same, despite the level of attention that their new music is attracting.
PVRIS are back, and PVRIS are better than ever.
Setlist:
You and I
Fire
Mirrors
Holy
White Noise (stripped)
Ghosts (stripped)
Smoke
Half (live debut)
Eyelids
St. Patrick
-
Heaven (live debut)
My House