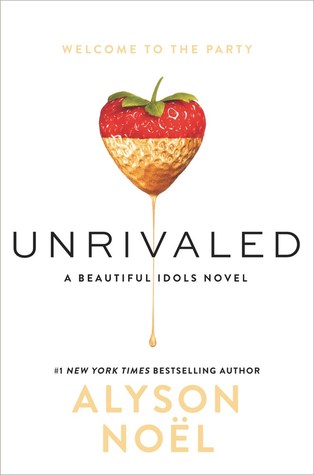 *This review will contain spoilers!*

First things first, I need to say a huge thank you to MIRA Ink, for accepting my request to view this title on NetGalley, and to NetGalley for the service that they provide.
'Despite the crush of tourists storming the sidewalks year after year, Hollywood Boulevard is a place best viewed behind a pair of polarized lenses and lowered expectations.'
Instantly establishing the fact that this wasn't going to be a book celebrating the Hollywood lifestyle, I was grabbed by Alyson Noel's attitude towards the setting she'd chosen. Other books I've read set in Hollywood have focused upon the glitz and the glamour, but I had a feeling this was going to be much grittier.
Layla Harrison, freelance journalist yearning for the story that will kickstart her career.
Aster Amirpour, Persian princess disobeying her family by attempting to make a name for herself.
Tommy Phillips, illegitimate son of one of the richest men in Hollywood...
When Ira Redman, owner of world-famous nightclubs Night For Night, The Vesper and Jewel, opens a competition to find the best club promoter, Layla, Aster and Tommy all have vastly different reasons for taking part.
Layla needs the grand prize money to go towards her dream of journalism school, Aster needs to make connections to launch her acting career, and Tommy wants to get closer to Ira, who just happens to be his father.
They have one thing in common: they're all desperate. So when Ira hands out a list of the celebrities he wants to see in his clubs - top of the list, Madison Brooks and Ryan Hawthorne, the new Brangelina - they'll go to any lengths necessary to get them in. Layla finds herself slapped with a restraining order, Aster and Tommy get themselves embroiled in a celebrity scandal, and when Madison goes missing they all get caught up in a murder investigation.
With a contestant getting fired from the competition every week,
this is a much sexier version of The Apprentice
.
This being Hollywood, there are certainly some kooky characters, but other than our main four characters
the background cast are a little neglected
. It would have been interesting to get to know Zion, the male model working with Layla at Jewel, or any of the other eight contestants in Ira's competition, but they were just incidental. None of them posed a threat, as it was obvious the three characters we were following were going to get to the final.
The subplot of Madison's disappearance is fascinating, because it's established in the prologue and we then work towards her leaving in the main body of the novel.
It's insanely tense
, and I'm looking forward to following this plot through the next book in the series. By ending the competition in book one, we still get a complete story told within these pages, but I feel like
the main plot is only just beginning
.
If you like bitchy high school dramas, but you'd like to hang out with slightly older characters, this is the book for you. It has all the manipulating and backstabbing, but because it's in a workplace it's something I can relate to more at this stage of my life.
It's verging on new adult
, but it's not graphic enough to fit in that genre.
Also, if you hate insta-love and want to read authentic relationships, this is a brilliant book for that. Ryan cheats on Madison with Aster, then throws Aster aside as soon as he's done with her. Tommy's attracted to Layla, but when Madison comes calling he's interested in her... Only to rebound straight back to Layla as soon as Madison is gone. Layla has a boyfriend who disagrees with her life choices, so she kisses Tommy. When Mateo finds out, they're over - simple as that.
There are no fairytale endings for these couples
... Or at least there aren't yet. It's so refreshing and realistic.
I definitely haven't read anything like 'Unrivaled' before. It's vastly different from Alyson's other novels that I've read (namely half of her Immortals series) and shows a much more mature side to her writing. The descriptions are lyrical and you really find yourself getting caught up in it: even when not much is happen plot-wise, it's just enjoyable to read.
I'm a sucker for a cliffhanger, so the last chapter was the entire reason I rated this book so highly. I was torn between four and five stars, but it's just such a brilliant way to finish a story: it wraps up the loose ends just enough, while making it absolutely impossible to skip the next installment.