(Top Ten Tuesday was created by
The Broke and The Bookish
!)
I'm very good at saving gift cards. I'm terrible at frittering away my hard-earned cash and I do it all the time without a second thought, but as soon as it comes to gift cards I hoard those bad boys.
However, if someone gave me a gift card and told me I had to spend it right this second, these are the ten books that I would buy with it.
10) 'Crooked Kingdom' by Leigh Bardugo
I'd have to start my book buying with a few pre-orders! I was going to read 'Six of Crows' as soon as it came out, but when I found out it was part of a duology I decided to hang on for the second installment, which is so close to being released.
9) 'The Architect of Song' by A. G. Howard
After being disappointed by the last two A. G. Howard novels I've read, I'm looking forward to finally reading something new and different - anything that's not set in the same world as her Splintered trilogy. This one would also be a pre-order.
8) 'The Fate of the Tearling' by Erika Johansen
The last book I'd pre-order would be 'The Fate of the Tearling', because I'm beyond excited to finally finished Erika Johansen's trilogy.
7) 'The Thing About Jellyfish' by Ali Benjamin
I read a sample of 'The Thing About Jellyfish' a long time ago, and it's one of those stories that has solidly stuck in my head. I'd love to be able to read the rest of this book.
6) 'Horrorstor' by Grady Hendrix
A story in a book that looks like an IKEA catalogue, about a haunted furniture store? This sounds like something that could easily become my favourite book, so I definitely need to buy it and read it.
5) 'Pretty Little Liars' by Sara Shepard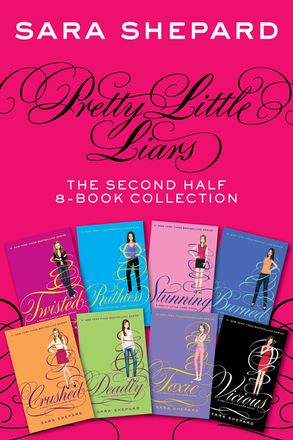 I only need to read the last 4 books in the 16 book series, so I'd definitely only purchase those ones. These aren't books that I want to own and re-read.
4) 'Rat Queens: Sass & Sorcery'
I've been looking at Rat Queens for such a long time, but I haven't purchased it yet because graphic novels are expensive. If I had a gift card, though, I'd grab it without a second thought.
3) 'Harry Potter and the Cursed Child' by J. K. Rowling
Because everyone else is buying this, and even though I haven't finished the Harry Potter series yet, it would be nice to own the complete set of books.
2) 'What's A Girl Gotta Do?' by Holly Bourne
The third book in Holly Bourne's Spinster Club series, 'What's A Girl Gotta Do?' came out a couple of days ago, and I really want to get my hands on it.
I loved 'Am I Normal Yet?'
, but have been waiting to read the second book until this third installment was released, because I just want to power through the rest of the series.
1) 'Under Rose-Tainted Skies' by Louise Gornall
I have heard so many amazing things about this book, and I saw it for the first time in real life in the Waterstones in my town yesterday... I was so tempted to buy it, but I've been trying really, really hard to resist the pull of spending money. If I had a gift card, though, this would be the most important book for me to purchase.

I hope you enjoyed this Top Ten Tuesday! What books do you need to buy?