(Top Ten Tuesday was created by
The Broke and The Bookish
!)
I don't watch a lot of movie adaptations of novels, but this is normally because I don't read the books in time and then I'm constantly fighting to catch up. So these ten books are books that I've already read that are being adapted into films (or, at least, have had the rights sold to potentially become films) and I'm so excited about them!
10) 'Allegiant' by Veronica Roth
I'm least excited about 'Allegiant' because I absolutely hated the book, but I've really enjoyed the film adaptations so far (even if they haven't been as true to the text as they could have been) so I'm sure I'll have fun at this one. It's releasing in March, so not long to wait!
9) 'The Selection' by Kiera Cass
'The Selection' was only purchased by Warner Brothers earlier in this year, despite the fact that the series has already finished. I'm sure the costume and set design will be beautiful, even if it's not the most exciting story to go through an adaptation - that being said, I might be looking forward to it more once I've finished 'The Elite' and 'The One'.
8) 'Fallen' by Lauren Kate
I definitely don't have high hopes for the adaptation of 'Fallen', which seems to be destined to go the same way as the 'Beautiful Creatures' movie. I'm still going to go and see it, though, and hopefully finish the book series before I do.
7) 'Ready Player One' by Ernest Cline
I would have put 'Ready Player One' higher up the list, but it's such an immersive, cinematic read that I don't think anything on screen will match my imagination. I still want to see it on a big screen, even if I will end up grumbling about it.
6) 'Before I Fall' by Lauren Oliver
In the first of two books by Lauren Oliver, I've only put 'Before I Fall' so low down because I can't imagine how it will work as a film. The protagonist lives the same day over and over again, only changing specific aspects, and I think it would be a bit too much like 'Groundhog Day'... We'll see.
5) 'Fantastic Beasts and Where To Find Them' by J. K. Rowling
The thing is... I haven't read Harry Potter, but I have read 'Fantastic Beasts and Where To Find Them' and 'Quidditch Through the Ages'. so I was excited to know that one of these spin-off novels was getting its own movie.
4) 'Panic' by Lauren Oliver
The only film news I can find about 'Panic' is the fact that Lauren Oliver is writing the screenplay - which basically guarantees the film will be true to the movie! - so I'm going to keep an eye out for more updates on this.
3) 'The 5th Wave' by Rick Yancey
'The 5th Wave' is the movie adaptation that's releasing soonest on my list, in the middle of January, so I should be more excited about it... But I'm not completely certain about the casting. Nick Robinson as Ben Parish is not what I'd been visualising at all, but I think the choice of Chloe Grace Moretz as Cassie is a brilliant fit. I'm sure I'll get more excited the closer we get to release day...
2) 'Red Rising' by Pierce Brown
The film rights for 'Red Rising' were acquired last year, very soon after the novel published. The series hasn't waned in popularity, so I'm hoping we'll be getting more film news very soon. There aren't too many films that are set solely on Mars, so I can't wait to see how they interpret the world and who they choose to play Darrow.
1) 'Looking For Alaska' by John Green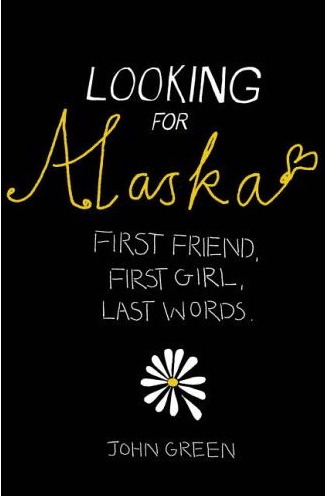 The film rights for 'Looking For Alaska' were obtained ten - TEN - years ago! I read the book back in 2011 and I've been eagerly anticipating the eventual release of the film, so I was beyond excited when it was announced that they'd started writing the screenplay and had assigned a director. Keep a close eye out, because there should be more news on this one soon, especially after the success of 'The Fault In Our Stars' and 'Paper Towns'...
Are you also excited to see this adaptations? Are there any that I've missed that you're really excited about? Leave your comments down below!