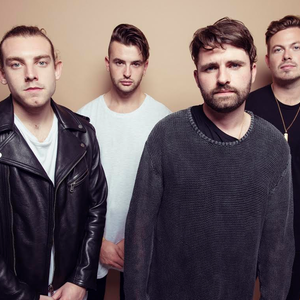 First things first, I'm gonna admit that the main reason I was attending this show was to see the opening band, PVRIS. This was my sixth time seeing We Are The Ocean, and my fifth time seeing Lower Than Atlantis, but because this was only PVRIS's second show EVER in the UK, I hadn't seen them before. I was beyond excited to see them in a live environment, because I was sure they were going to kill it, and judging by the reaction of the crowd it seemed like there were a lot of other people who were rooting for them too.
I don't think anyone would have gone away feeling disappointed. Vocalist Lynn Gunnulfsen has a brilliant voice on their recorded songs, but her live vocal is much more raw, showing the emotion that she was putting into the performance and impressing the majority of the crowd. After a huge support slot on the Sleeping With Sirens and Pierce The Veil co-headline tour, and a lauded appearance at Self Help Festival in America, you can tell that PVRIS know what they're doing live, and they did it well. There did seem to be a kind of disconnect - I'm not sure whether it was the acoustics in the venue, but something was off with the sound, meaning that it didn't blow me away as much as I'd been expecting - but overall it was an impressive performance that definitely got the crowd moving.
They definitely picked a great setlist to draw the crowd in; starting off with 'Smoke' really gave them a chance to get people interested, which just grew throughout 'Mirrors' - in which Lynn really made the most out of her vocal range - peaking at 'St Patrick', which has been receiving a lot of mainstream radio play in the UK over the last few weeks. As Mike Duce stated during Lower Than Atlantis's set, we're "expecting very big things from those guys, so they better not fuck it!", and if they keep going the way that they are, that definitely won't be an issue.
If you haven't had the chance to see PVRIS while they're in the UK on this tour, they're also playing Slam Dunk festival at the end of May, so I'd seriously recommend you get tickets to that - you won't regret it.
Setlist:
Smoke
Mirrors
Fire
White Noise
St Patrick
My House
Main support We Are The Ocean are currently gearing up for the release of their fourth album, 'Ark', so I was pretty excited to hear the new songs in a live environment. After seeing We Are The Ocean four times during the touring cycle for 'Maybe Today, Maybe Tomorrow', I was highly anticipating a new, fresh setlist, and I was pleased when they burst out on to stage with new song 'Do It Together', followed it up with 'Shere Khan' and played 'Good For You' half way through the set, meaning that the new album was highly represented. If you don't know anything about We Are The Ocean's past, just prior to the release of their third album they announced that unclean vocalist, Dan Brown, would be leaving the band, so 'Ark' is going to be the first album that they've written and recorded without him being an influence in the process. I was struck by how obvious this was - instead of pop-rock, the new We Are The Ocean sound is a throwback to classic rock, with a heavier sound that definitely suits them, demonstrating Liam Cromby's vocal prowess brilliantly. You can feel that this is a new era for We Are The Ocean, and I'm looking forward to hearing what they've done with the rest of the album, because Liam definitely seems to be putting his stamp on the band as the frontman now.
Other than the new songs, they still performed their older songs brilliantly, with 'The Road', 'Young Heart' and 'The Waiting Room' all getting great reactions. Towards the end of 'The Waiting Room', Liam encouraged the crowd to sing "Let go and then I lose control" back to them, and the singalong got going after a few repetitions, with Liam shouting "We're at a rock gig, we don't wanna be nice, we wanna be rowdy!". But for the majority of the set it felt as though the band were fighting a losing battle to make an impact on the crowd, which was a massive shame.
Perhaps it was the inclusion of so many new songs, songs which people would not be familiar with and might not enjoy too much, but for the bulk of their set it seemed as though everyone was talking and not really connecting with the band. We Are The Ocean are an avid touring band - I can't remember a time when they haven't been lined up for a festival or a support slot somewhere - so they really are the best in their live set, but it seemed that the crowd weren't really feeling this tonight. It could have been that people were there for PVRIS, and were politely staying through the rest of the show, or that they were restlessly waiting for Lower Than Atlantis, but it didn't really seem as though We Are The Ocean were bringing too much to the party. Maybe, if the album had already been out, it would have been a different story, but I sincerely hope that the audience at the rest of the tour dates is more respectful, because the boys deserve much, much more than this. They're playing Reading festival in the summer, and I will be seeing and reviewing their entire set, so I hope that the response they get there is to the standard that it should be.
Setlist:
Do It Together
Shere Khan
The Road
Ark
Good For You
Young Heart
Nothing Good Has Happened Yet
The Waiting Room
After the triumphant release of their self-titled album last year, it wasn't surprising when Lower Than Atlantis managed to sell out this entire tour, and they proved exactly how it happened with the set that they played. The focus was most definitely on the new album, with half of the songs performed being off of the new release, but when an album is that good no one's going to complain about more being played - especially when the band still made sure to include a song each from both 'Far Q' and 'Changing Tune'.
Starting with 'Criminal', the entire crowd was instantly absorbed proving that, even if they seemed apathetic at times throughout the supports, Lower Than Atlantis are not a band that you can ignore. Some of the older, lesser known songs did not get amazing responses, with 'Far Q' falling quite flat, but with the audience having a visceral reaction for all of the new songs it wasn't an issue. 'English Kids In America' had every person singing along, as did 'Emily' and older, well-loved track '(Motor)way of Life'. One of the most surprising inclusions in the set was 'Sewer Side', one of the bonus tracks included on the deluxe version of 'Lower Than Atlantis'. Most bands don't choose to play bonus tracks in a live environment, because not many people know them, but Lower Than Atlantis are a ballsy band, and the risk definitely paid off. I hadn't heard the song before, but it had a unique sound that meant it really stood out from the rest of the set, and I'm sure it's going to have convinced quite a few people to re-purchase the album with the extra songs.
But the highlight of the night by far was 'Words Don't Come So Easily'. If the rest of the set was great, that song was absolutely flawless, with the band letting the crowd sing alone for the repetition of "open mouth, scream and shout, nothing out", a moment which was both impressive and goose-bump inducing. Following up with a short intermission, during which Mike cut a path through the crowd, got on top of the merch stand and led a rousing rendition of 'Happy Birthday' for their merch man, Joe, just added to the special moments that were happening during this show, one that means it will stick in my mind for a while. As well as multiple chants of "oggy, oggy, oggy, oi, oi, oi", it seemed to be one of the most memorable shows I'd been to in a very long time.
Another risky choice was to play 'Another Sad Song', Mike's slower ballad, as the song before the encore. Generally bands choose their most well-known, upbeat songs to wrap up the main set, but this was yet another risk that played off, with the whole crowd singing along.
At Reading festival
, I thought that 'Another Sad Song' might have been the most emotional song in their set, but it was also the most well received, and the same could be said from this night.
Closing up with 'Here We Go' was a predictable but brilliant choice, meaning that the set ended on a massive high, and I'm sure no one left feeling disappointed. I'm excited to see where Lower Than Atlantis go over the next year - with a high profile slot at Slam Dunk festival next month, I'm sure that their trajectory is not leveling out just yet, and I see big venues in this bands future, so you should get on board with this journey now, before it's too late.
Setlist:
Criminal
Love Someone Else
Far Q
Stays The Same
Emily
Ain't No Friend
English Kids In America
High At Five
Marilyn's Mansion
Sewer Side
(Motor)way of Life
Words Don't Come So Easily
Deadliest Catch
Another Sad Song
-
Beech Like The Tree
Here We Go