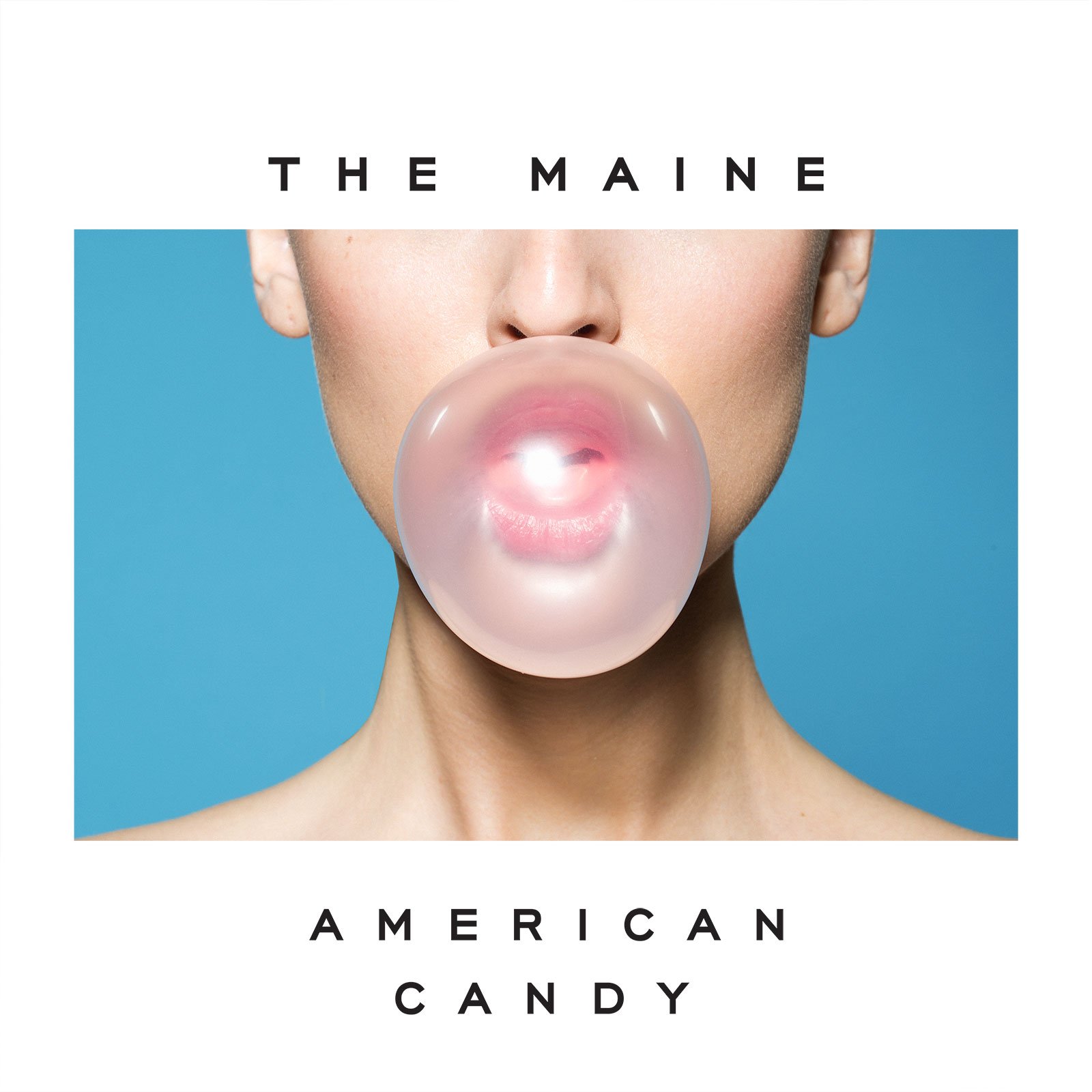 One of the things that annoys me more than anything is when a band changes in a dramatic fashion from album to album. I can appreciate development, and I can appreciate it when it makes the music better, but when a band loses everything that makes them unique, everything that makes them "them", it just fills me with complete and utter despair.
Thankfully, that is not the case with 'American Candy'. While it might only be ten songs long, it manages to both develop from their last album, 'Forever Halloween', and still keep the essence of The Maine alive. There's no mistaking that this is one of their albums - there is not a single opportunity to get it confused with another band, because they don't sound like anyone else, and they don't try to. 'American Candy' is their third independent release, and I do think that they made a brilliant decision to go down the independent music route, because it definitely keeps them genuine.
In all honesty, I don't have much to say about this album, which is a brilliant thing in itself. Too often in my album reviews I am just criticising all of the mistakes, but there are none to be found here. 'Miles Away' makes me want to pack up my bags and go exploring, encouraging a serious case of wanderlust, while 'Same Suit, Different Tie' would make even the biggest haters of The Maine want to dance their socks off. Meanwhile, 'My Hair' manages to be completely ironic in a completely unintentional way, with vocalist John O'Callaghan encouraging people to "grow your hair out" after chopping his hair off following the announcement of this album.
There might be no songs that I dislike on this album, but there are two that stand out above all of the others, and those are 'English Girls' and '24 Floors'. If you haven't heard 'English Girls' already, I'll be extremely surprised, because this song has been getting quite a lot of attention
since the video for it was released around a month ago
. The video is brilliant, which might be one of the reasons that I fell for this song so quickly, but it just seems to embody such a departure from 'Forever Halloween' - while the previous album was introspective and dark, this song has a light flooding from it that shows a big transformation for the band. While 'English Girls' is the happiest song on the album, '24 Floors' is the most heart-breaking, and the most likely of the songs to be able to comfortably find a place on one of their previous releases. With John singing "24 floors up in some hotel room, feeling so low, thinking of jumping soon" I'd be surprised if this song didn't strike a chord deep inside nearly every listener. On my first play through of it I was moved to tears, which was something I definitely hadn't been expecting from this album, but it just demonstrates what a brilliant lyricist John really is - he's utterly honest about feelings and it makes it very easy to fall in love with this band.
On the whole, however, this is definitely a pop rock album determined to make people dance. 'Diet Soda Society' is genius, with an acoustic introduction that gets more and more upbeat as the song progresses. 'Am I Pretty?' is the only song that comes even close to having the "oh, oh, oh" or "na, na, na" section that seems to be required in every pop rock or pop punk album recently, and it's a big relief to not be absolutely overwhelmed by a bands attempt to get the crowd involved. The song that I definitely think will have the biggest reaction in a live environment is closing track 'Another Night On Mars', which has a chorus that lends itself perfectly to a concert, and I can imagine that the gang vocals that will come with this singalong every night will be superb.
I highly recommend this album - if you're a fan of The Maine, you will absolutely love it, because they definitely aren't forgetting their roots. If you're not a fan of The Maine yet, why not? This is as good a place as any to start, so you might as well go out and pick it up now.
Tracklist:
Miles Away
Same Suit, Different Tie
My Hair
English Girls
24 Floors
Diet Soda Society
Am I Pretty?
(Un)Lost
American Candy
Another Night On Mars
However the Acoustic EP, '15:00', is a slightly different story. As I'm sure you can guess by the title, this is a single fifteen minute track, in an acoustic fashion. Contained within the fifteen minutes are 'American Candy' and 'Miles Away', both slowed down and remixed so that they're more relaxing and can fit better on a chill out album than a pop punk record.
I wasn't as blown away by it as I was hoping, because I was hoping there would be more than the two songs included in the fifteen minutes (I was picturing more on an acoustic medley album), but overall it's still quite enjoyable and will appeal to hardcore fans. I wouldn't suggest starting here, and if you've got a low attention span or like music that just gets straight to the point I would definitely point you in another direction, but if you're looking to unwind at the end of the day this will definitely do it for you.
The EP has the definition of "sleep" on the back of it, and that's definitely where this EP will get you - it's very melodic, verging on music that could be used for meditation. These definitely aren't negatives, because it definitely won't be boring you to sleep, because it still does sound very beautiful. It's just extremely different, and something that I definitely haven't heard before.