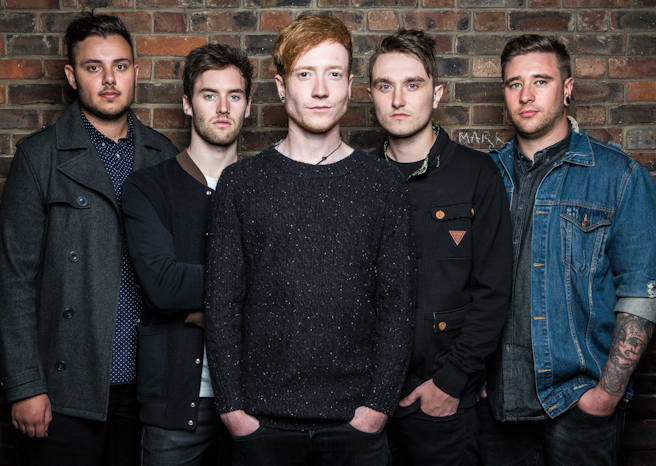 I was beyond excited about going to this show: Fort Hope are one of the best new bands around on the scene, Moose Blood have a unique spark and that makes them supremely appealing, Frnkiero andthe Cellabration playing their first UK tour was obviously going to be amazing and Mallory Knox are one of my favourite bands in the British rock scene at the moment and I already know how good their live show is after catching them at Slam Dunk and Reading Festival earlier on in the year.


Fort Hope kicked off the show in style with new single 'Plans', the first song they've released following the departure of Ande D'Mello late last month, but the way it's performed makes you believe that it's been an integral part of their set for much longer. Jonathan Gaskin's vocal is breathtaking, showing a range to his voice that they've never really displayed in a live environment before, and with
a new self-titled EP
coming next year it's going to be interesting to see where they go musically in the future, but in the here and now they're pretty great.
My only complaint is that their set wasn't long enough, being only comprised of five songs, but the crowd reaction to the sing-along at the end of 'Control' showed that even though they had the shortest time on the stage, they probably caused one of the biggest impressions on the crowd. When I saw them before I praised them highly because of how atmospheric they are, which is still true tonight, and it was the perfect way to start a show of this caliber. They're also amazing guys, and despite all that they've been through since the old days in My Passion they're all still super lovely to their fans, so that's even more reason to go and see them.
Setlist:
Plans
The Rapture
Tears
Sick
Control
Second up were Moose Blood, and despite the fact that I only started listening to them a few days ago, I do think they've definitely got a raw talent that is going to send them far. In the last year they've been played on Radio 1 constantly, showing that the support behind them is definitely growing, and it's great to see people getting behind a band that aren't bordering on pop; Moose Blood are most definitely a rock band.
Starting off with 'Pups' got the energy in the crowd going, and it stayed that way throughout the entirety of their set. 'Swim Down' and 'Boston' seemed to get the best reaction from the crowd, but all of the songs were so well performed that it was very difficult to fault this set and I do think that musically they were the best support by far.
At points the songs seemed to blend into one another, but that's an issue that will become less prominent with the release of more albums in the future giving them more choice of what to include in a set.
Having met Moose Blood after the show I can say they are some of the most humble guys I've ever encountered - they were so thankful for everyone for coming and watching their set and for buying their album - so these are a band that you should definitely get behind. It's obvious that they didn't expect to get this successful this quickly, and they're just going to get bigger from here.
Setlist:
Pups
Swim Down
Bukowski
Stay Here
I Hope You're Miserable
Boston
Main support, Frnkiero andthe Cellabration, are the main reason that most of the crowd are filling this room, forcing their way to the front and buzzing with anticipation, and the blood-curdling scream that goes up the second the lights go down genuinely make you believe that this is the headlining band. I understand that many of the My Chemical Romance fans have come out to support Frank Iero's new project with an unquestioning loyalty (which I also touched upon in
my review of Gerard Way's show
in Oxford just a couple of weeks ago), but in all honesty this isn't the amazing support slot that I was expecting him to perform.
Starting off with 'This Song Is A Curse' from the film soundtrack for 'Frankenweenie', the punk atmosphere automatically fills the room, along with people dancing and singing along, but I just couldn't really see the appeal of it. Don't get me wrong, some of the songs ('All I Want Is Nothing' and 'Weighted' especially) are really well played, lyrically sound and catchy, but the live performance is so far removed from the recorded songs - partly because Frank has a ferocity to his vocal that is hard to catch on tape, partly because at some parts on 'Stomachaches', the debut album, it seems over-produced - that it just doesn't seem as polished as I'd expected it to be and it seemed like an introspective performance that didn't really connect with the crowd.
For a show that started early and which had extremely short sets for the first two support bands, this was the only area of the night that it seemed as though time was dragging, which was a massive shame. There wasn't much banter, just rushing through the set and getting the songs over and done with, but because of how respected Frank Iero is I don't think many people would have faulted the set anyway. Maybe my hopes were too high, but in my opinion Fort Hope and Moose Blood were much better supports, and this show wouldn't have been lacking if Frnkiero andthe Cellabration hadn't been here.
Setlist:
This Song Is A Curse
All I Want Is Nothing
Blood Infections
She's The Prettiest Girl At The Party
Smoke Rings
Joyriding
Tragician
Neverenders
Sadly, a lot of the crowd flooded to the back as soon as Frnkiero andthe Cellabration went off stage, which was disappointing because Mallory Knox are always amazing live, throwing everything they have into their performance.
This was not an exception to that rule, and the songs from 'Asymmetry' fit perfectly into their live show, upping their performance through the roof. Kick-starting with 'QOD II', the first release from the newest album, was a stroke of genius that made the crowd explode into action which only grew during second song 'Shout At The Moon'.
Surprisingly, instead of being one of those bands that weighted the set towards the new songs, the mix of new and old was pulled off superbly, with every new song paired off with an older one. With it being five years since they played their first live show, you can tell that they have definitely used each show as a learning experience, harnessing the aspects that work best to put on a brilliantly crafted setlist that runs through all their best songs and all of their future hits. The mix of 'Resuscitate' and 'Oceans' might have disappointed some people because neither of them were played in full, but it's refreshing to hear a band touching upon their older, lesser known material, even if it is only for a section of each. Playing 'Death Rattle' at the end of the main set was explosive, and with Mikey Chapman splitting the crowd down the middle it caused one of the most energetic crowd responses I think I've ever seen at Oxford O2 Academy.
My personal highlight was the first song in the encore, 'She Took Him To The Lake'. A band that can both write a seven and a half minute song and have the balls to play it live are a band that will be very hard to match. Sam Douglas's backing vocals are hauntingly beautiful, while hearing Mikey's vocal go from intense and whispery to passionately throwing his entire soul into the song was heart breaking in one of the most positive ways. Finishing off with 'Lighthouse' the crowd went absolutely crazy - three mosh pits at least springing up instantaneously - and it proved just how far Mallory Knox have come since the release of 'Signals' just under two years ago.
Setlist:
QOD II
Shout At The Moon
Hello
Getaway
Wake Up
When Are We Waking Up?
Resuscitate/Oceans
Beggars
1949
Dying To Survive
Ghost In The Mirror
-
Death Rattle
She Took Him To The Lake
Lighthouse